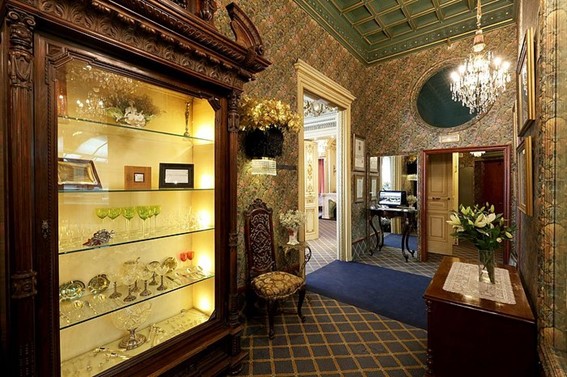 The centennial wardrobe of the Hotel Continental Palacete
A jewel that came from Paris in 1889 for Hotel Continental Palacete
This mahogany wood jewel was acquired by the Vallet Arnau family at the Universal Exhibition in Paris in 1889.
When Pilar Vallet Hernández and José María Malagarriga Miralbell, my parents, joined in marriage, this wardrobe could be located first in a family home and, later, when we inaugurated the Continental Palacete, in this privileged place in the middle of Rambla de Catalunya.
This precious cabinet has become the repository for all the wonderful memories of our hotel history.

Memories of our long history in the hotel world
On the shelves of this cabinet, we can find silver cutlery used in the past, fine crystal goblets acid etched with "Continental", ashtrays also engraved with "Hotel Continental" and other jewels such as fine porcelain vases, bohemian crystal and silver, in addition to awards and distinctions that the Hotel and the family have received after so many years of history.

Hotel family tradition since 1826
Our tradition in the hotel industry was born almost two centuries ago, in 1826, according to a parchment that you can see on display in our lobby. It was the time of the innkeepers and bartenders of our city.
Our family is proud to continue maintaining our two hotels: the Continental Barcelona on La Rambla 138 and the Continental Palacete on Rambla de Catalunya 30.
Our dedication to service and our professionalism have been perfected generation after generation to continue offering and receiving our esteemed guests, thanks, of course, to our staff, without the involvement and commitment of which it would have been impossible to get here.

A special memory reflects the innovative spirit of our family
In the "black closet", as we have always called it at home, we find a very unique souvenir: the coins from the "Automatic Bar". It was the first self-service bar in Barcelona that our grandfather organized on the ground floor of the Hotel Continental, on Ramblas 140 in 1932. A bar that dispensed drinks and snacks that was an absolute novelty at the time!
We continue to innovate and strive to offer you the best stay in Barcelona!
The taste of what is familiar and authentic, the accumulated experience, the vocation for service, the tireless work and the desire to move forward day by day to offer you the best are our motivation every day.
We look forward to welcoming you and taking care of you when you visit our beloved Barcelona!