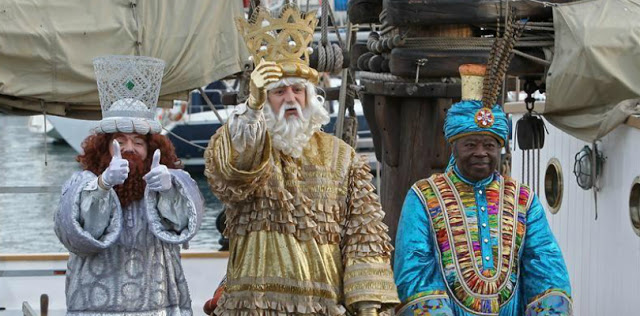 The Three Wise Men Parade in Barcelona
As every year, the Three Wise Men arrive in Barcelona on the night of January 5, a tradition celebrated in Spain and Portugal and in most nations of Latin America. Given due regard on the experts, they tell that the three wise men were not always 3 in number and that the biblical fragment from where they have origin never spoke of the actual number of sages. What is read is that they appeared from the east to worship the first manifestation of Jesus as a child offering three symbolic gifts: gold, frankincense and myrrh. With the passage of time the tradition adjusted the 3 gifts brought to 3 Kings called: Melchor, Gaspar and Baltasar (in Spanish).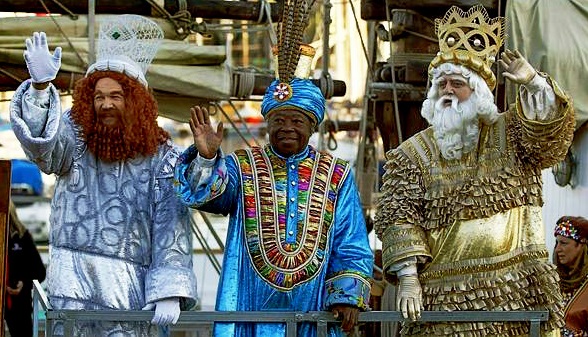 The Three Magi arrive in all over Spain by means of their carriage along with their pages and other Christmas helpers. The bittersweet taste comes when you know that by their arrival the end of Christmas time starts.
Either way, the Cavalcade of Magi (as the last promenade around the Christmas enlighted streets) is the most emotional and best way to shelve the Christmas.
Undoubtelly, the Barcelona cavalcade is the most awaited event for any child… although some adults we are also excited to see the three majesties up in their carriages dressed in their night clothes and throwing candy all over our heads.. Very funny!
At 16:30 p.m. on January 5, the Three Wise Men set foot on the Moll de la Fusta in Barcelona. But before the pailebot Santa Eulàlia, a mercantile sailboat built in 1918 recovered and restored by the Maritime Museum of Barcelona, will have taken them next to their sequel. After the traditional reception ceremony of His Majesties the Kings of the East, the magical tour through the main streets of the city begins from 18.00 to approximately 21.00 hours.
6.00 pm Av. Marquès de l'Argentera
6.10 pm Pla de Palau
6.15 pm Pg. Isabel II
6.25 pm Via Laietana
7.00 pm Pl. Urquinaona
7.05 pm Fontanella
7.10 pm Pl. Catalunya
7.25 pm Pl. Universitat
7.35 pm Rda. Sant Antoni
7.45 pm Sepúlveda
8.25 pm Av. Paral·lel
8.35 pm Pl. Espanya
8.45 pm Av. Reina Maria Cristina
From the balconies of our Hotel Continental Barcelona on Las Ramblas is a privileged location to watch the Three Kings Parade, with the Christmas helpers and the thousands of children and parents who follow them. A whole show full of illusions and unbeatable event to end this Christmas.
We just hope that we all have behaved very well and the Three Kings leave us lots of gifts!