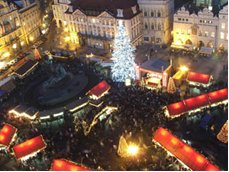 HOTEL CONTINENTAL: CHRISTMAS TIME IS HERE
If you are staying in one of our hotels in December, be sure to visit the nearby Santa Llucia Christmas Market, starting from December 3rd to December 23rd in front of the Cathedral in the Gothic Quarter.
The Santa Llucia Christmas Market is among Europes ten most important Christmas markets and takes place for the 224th time this year. Usualy you can find around 275 stands selling arts and craft, Christmas decorations and "figuritas de Belén". Belén and Pessebre are the Spanish and Catalan names for a crib.
"El Tió de Nadal" is Another thing you will find in the Santa Llucia Christmas Market. El tió de Nadal found in many Catalan homes during the holiday season, is a hollow log of about thirty centimetres length. The tradition is to hit the log with a stick, until small gifts such as candy and turron fall out of from the log.