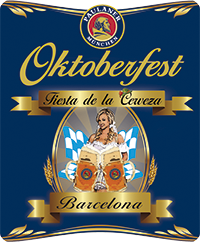 The Oktoberfest Barcelona 2016
¡Prost ihr Säcke!
(With love: Cheers, you pricks!)
Weather is unpredictable but events must go on in rain or shine.
A couple of days ago, amid the pouring rain, the Barcelona Oktoberfest 2016 ground-breaking ceremony was initiated by the tapping of the first Oktoberfest-beer-barrel.
As in many other cities around the world, at the cry of "O'zapft is" (it's tapped) the Beer Festival had just begun. In our city, this multitudinous folk celebration entirely dedicated to the "liquid gold" will last until October, 23.
The German nature at this event is inevitable, both waiters and waitresses, as locals and visitors wear in this party the Trachten, Dindrl and traditional Bavarian Lederhosen from genuine Germany.
Just for a little snooping, the original Oktoberfest is one of the historical and cultural celebrations of the German people with more than 200 years of history, and it all started at a wedding. In 1810, Bavarian Crown Prince Ludwig married Princess Therese von Sachsen-Hildburghausen, and all of the citizens were invited to the celebration. Since then, the festival has grown to include horse races, games, rides, music, and eventually beer.
Nowadays, it is held annually between the months of September and October in the Bavarian city of Munich, particularly in the large Theresienwiese. Also known as Wiesen, this is a field of over 46 hectares. A location that currently makes the Oktoberfest in Munich, the world's largest Volkfest (popular festival).
In Barcelona, the Oktoberfest is taking place in Fira de Montjuïc, right next to Plaça d'Espanya.
The very first great activity during the Beer Festival is the already unveiled keg tapping. O'zapft is!
Also, this year EuropaFM (the official radio relay of the event) has organized for Tuesday October 18, the EuropaFM party with the presence of DJs of the house … and just as pretzels cannot miss the German fairs, every good radio station, cannot help draw gifts and other surprises!
Among other cultural activities, these days in Fira de Montjuïc you will find lively music, mouthwatering food, and big, big pints of beer.
¡Prost du Sack!
(With love: Cheers, you prick!)