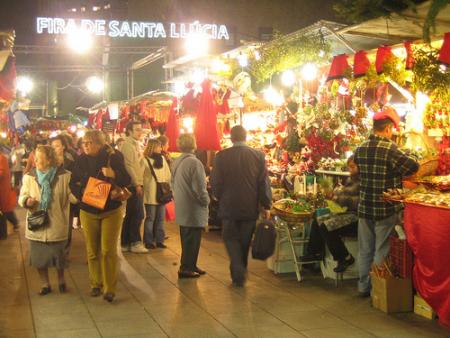 The Magic of the Santa Llúcia Christmas Market
This is probably Barcelona's most well-known and classic Christmas market. It is very specific to Christmas time, with a large percentage of the stalls selling Christmas trees, decorations and mistletoe. It is also a place to buy your Christmas Caga Tio– a log with a friendly face that is an important part of Catalan Christmas.
There is also a section of the market named 'Artesania'. Within this section there are a wide range of stalls selling various hand-made and artisan products such as jewellery, toys, leather goods and ornaments. Even if you have no purchases to make this is an essential part of any Christmas trip to Barcelona. There is an undeniably Christmassy feel to the market- particularly in the evening, when the lights of the market glisten against the backdrop of the impressive Cathedral that it sits in front of.
Click here to reserve your hotel barcelona
Click aqui per fer la seva reserva hotel barcelona
Click aquí para hacer su reserva de hotel barcelona
Clickez ici pour faire votre reservation d' hotel barcelone