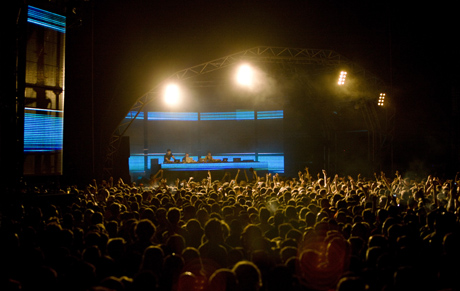 SONAR 2011 Barcelona 16.17.18 June International Festival of Advanced Music and Multimedia Art
Sonar
is the festival of advanced music and multimedia art that takes place at various venues in Barcelona (Spain) in the third week of June since 1994.
Sonar
 is a pioneering festival that is unique in terms of its format and content: a leading international benchmark thanks to a carefully assembled range of culture that combines entertainment with artistry, the avant garde and experimentation, featuring the most consolidated artists and trends in electronic music and their interactions and hybridisations with other genres.In Barcelona, Sonar's artistic programme is divided between the activities at Sonar by Day (concerts, showcases, professional zone, exhibition area), the keynote of which is the search for new talent, and the major shows at Sonar by Night, which presents the leading names on the international music landscape.
Each year, the festival also features a series of parallel events in cultural venues in the city such as the Auditori (the Barcelona main music Auditorium) or Cosmocaixa (Barcelona's Science Museum), and occasional collaborations with other main city events (such as the Summer festival's GREC in 2010).
At the 2010 festival, more than 84 thousand people enjoyed a faultless programme which combined the major headliners in modern electronica with an extensive line-up of emerging artists and djs, trendsetters in today's music and new media art.
Sonar is also a meeting point for an audience eager for new ideas and specifically for professionals from all over the world from various sectors in the creative industries, who come together at SonarPro, the ideal place for doing business and making contacts.
As well as the Barcelona event, in 2010 Sonar held a simultaneous festival for the first time in its 17-year history, entitled Sonar Galicia, in A Coruña (North of Spain). Sonar Galicia was created with a specific format, and a musical and artistic range inspired by the Barcelona festival. The new festival achieved major artistic and public success, and was attended by more than 14 thousand people in his first edition. Sonar Galicia 2011 will take place on the 17th and 18th of June.
The festival has regularly crossed Spanish frontiers since 2002 with events in various parts of the world, adapting the Sonar philosophy to unusual spaces and environments, and highlighting the most interesting aspects of Spanish talent and the scene in the city where it is held. To date, Sonar has travelled to London (an annual event since 2002), New York, Buenos Aires, Sao Paulo, Seoul, Frankfurt, Chicago and Tokyo, among many other destinations.
Sonar Barcelona 2011 will take place on 16, 17 and 18 June.
Click here to reserve your hotel barcelona
Click aqui per fer la seva reserva hotel barcelona
Click aquí para hacer su reserva de hotel barcelona
Clickez ici pour faire votre reservation d' hotel barcelone