Santa Llúcia 2014 Christmas Market
It is Christmas time! Lights already switched on, the Barcelona Shopping Night just around the corner and now: the Fira de Santa Llúcia (Santa Llúcia Christmas market).
From November 28th until December 23rd we are enjoying, for one more year, this charming Christmas Market around the Cathedral of Barcelona.
It is made up of more than 280 artisan stands overflowing with local craft Christmas productions such as mangers and crib figures, spruces and ceramic objects. Behind counters, smiling peddlers offering you, for decades, all items we could ever imagine to decorate our dining rooms and terraces for Christmas.
This Christmas market, located on Avenida de la Catedral, is organized into the following four sectors: Nativity Scenes and Figures, Green and vegetation, Arts & Zambomba (a friction drum); each part shows to all the curious their best Christmas articles.
Other traditional activities are developed during the Fira, far from the notion of unbridled consumerism. Activities such as oral narratives, carol singing, dance and eventually the giant Tio de Nadal.
The 228th edition of this magical outdoor fair, which features the handmade objects, figures for cribs and multiple traditional Christmas events, fans once again the fire of Christmas and gives light and color to one of the most emblematic areas of the city of Barcelona.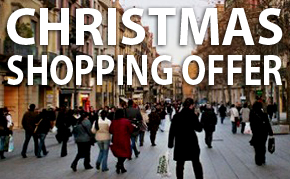 Hotel Continental perfect base for Christmas Shopping in Barcelona
Located in the heart of Barcelona, our hotels are offering guests an excellent opportunity to prepare for Christmas while enjoying this charming city full of culture and leisure.
– Minimum stay 3 nights
– Prepayment needed.