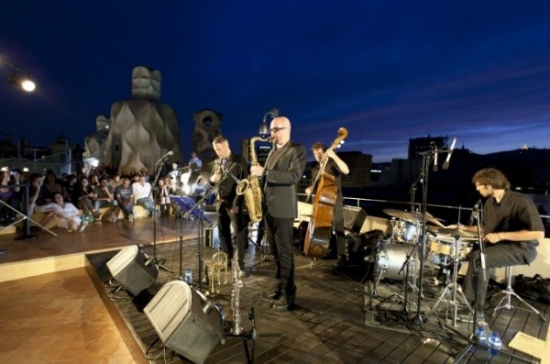 Summer evenings in La Pedrera
 The essence of Gaudí with live jazz
Enjoy an unique experience in the heart of Barcelona: La Pedrera at night with live jazz music on the roof. You will see one of the most spectacular views of Barcelona.
Don't miss this chance, from June 19 until early September 36 concerts are scheduled. Here you have a summary of the dates and groups that will act. To get tickets you can buy online at the page of La Pedrera. The price of each ticket is 28 € and the concert has a duration of 2 hours.
With concert ticket you can also access to the Espai Gaudí, where you will learn about the work of the architect, to complete the course what better than a glass of champagne on the roof of La Pedrera.
Jazz Ensemble Taller de Músics
19, 20,  21 june 2014

Ivo Sans convida…
26, 27,  28 june de 2014

Lucía & Horacio Fumero Trio
3, 4, 5 july 2014

Gianni Gagliardi Nomadic Nature
10, 11, 12 july 2014

Julián Sánchez New Quartet
17, 18 y 19 de julio de 2014

Arnau Obiols Projecte Pirene
4, 25 y 26 de julio de 2014

Sabina Witt Quartet
31 july; 1, 2 august 2014

Juan de Diego Trakas
7, 8,  9 august 2014

Ivan Kovacevic 5 Spots
14, 15, 16 august 2014

Jazz Machín
21, 22, 23 august 2014

Llibert Fortuny & Gergo Börlai
28, 29, 30 august 2014

Félix Rossy & Enrique Oliver
4, 5 y 6 de septiembre de 2014