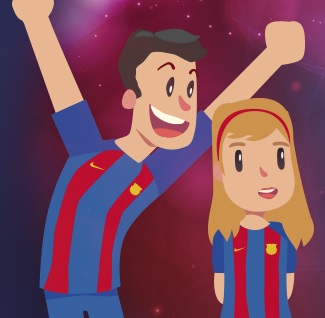 Open-door Training Session FC Barcelona
If you're tired of the Christmas lights, the Santa Claus hanging on the balconies and carols in the streets, do not miss the open door training session of FC Barcelona on 3 January
 at the Miniestadi. It has almost become a Christmas tradition!
With free admission for members and 5€ cost for the general public, Luis Enrique's team wanted to wait for the return of the trident and Gerard Piqué, who are coming back from their Christmas holidays on January 2, to delight their fans in a day of training full of surprises and excitement.
Next January 3, with the new year just released, all the magic of football and Christmas will be uniting in the Miniestadi where thousands of children will have the opportunity to see their great idols very close. Although the show starts at 11am, from 9:30am. you will be able to access the venue, which is next to the Camp Nou and belongs to the same sports complex owned by Fútbol Club Barcelona.
After this session, prior to the first official commitment of 2017 which will be the first leg of the knockout round of the Cup against Athletic in San Mamés (January 5), Barca will visit several hospitals to fulfill their tradition as assistants of the Three Wise Men and deliver gifts to the children in there.
Tickets for the open door training 2017 are available from today through the same lockers at Access 15 from 9.30 am to 7.30 pm. Attention! From Hotel Continental Palacete and Hotel Continental Barcelona in the center of the city, we recommend you to buy tickets now if you are interested … they are sold out right away!