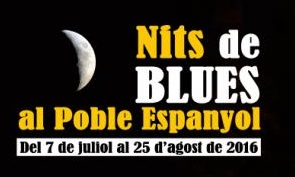 Night of Blues in Poble Espanyol in Barcelona
You may have heard about the ubiquitous Barcelona nightlife. And that is because we love to relax and gather with our friends after an intense week of work. As in such a way Rick Steves would say that Barcelona people generally place equal importance on work and living well.
Not surprisingly, the all-night extravaganza in Barcelona then has become a tremendous offer for locals and visitors as well. So much so that a new day has been gathered in Catalans calendar: "Juernes" (that is jueves plus viernes, a fusion of Spanish Thursday and Friday).
This time in Continental Hotels in Barcelona we are sharing with you a very good Juernes plan. Blue Nights in Poble Espanyol.
Until 25th August this year, you can enjoy the Poble Espanyol in Barcelona "Nits Blues".
Every Thursday at 9pm the best blues bands across the country, will offer a concert full of fast pace and all the energy that transmits this American rooted music.
This is about live performances in an intimate outdoor space, accompanied by restoration and bar service to feel unspeakable emotions. This 2016 is the third "Nits Blues" held in this emblematic space located in the center of Barcelona.
Every Thursday we will be posting on our Twitter @HContinentalBCN the upcoming performances. If you are in Barcelona, you have no excuse to live a Juernes as a local!
Thursday 28th July: Fulgurita
Thursday 4th August: Rob Stone
Thursday, 11th August: Big Mama Montse & Tòfol Martinez Trio
Thursday, 18th August: Johnny Big Stone & The Blues Workers
Thursday, 25th August: A contra blues
These spectacular nights of blues, have been possible thanks to the collaboration of "Capibola Blues", the "Escola de Blues de Barcelona" and "Barcelona Blues Festival".
See more in http://www.poble-espanyol.com/en