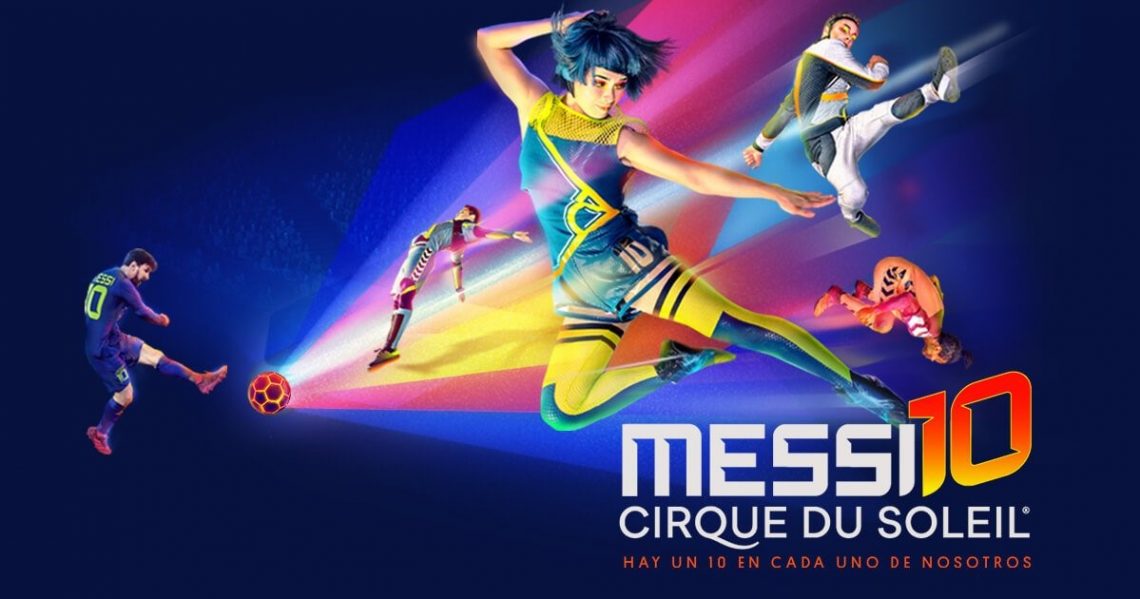 Messi10 by Cirque du Soleil: a fascinating show at the Barcelona Forum
Barcelona has just released this amazing Cirque du Soleil show inspired by the life of Leo Messi.
A perfect excuse to come to Barcelona these coming months. Reserve your tickets for  this wonderful show, a true artistic jewel that will not leave you indifferent.
The show takes place at the Parc del Fòrum in Barcelona, ??being the only city in Spain where it will be presented, and will start a world tour starting in 2020. It is a real luxury for our city that Cirque du Soleil has chosen us to present Messi10 by Cirque du Soleil.
This show is simply amazing. A cast of 45 artists that transmit an acrobatic perfection in combination with technological and innovative elements that will awaken your adrenaline to the fullest.
Messi10 by Cirque du Soleil tells the story of a tireless young man determined to overcome all obstacles to achieve his dream: to be the best player in the world.
A performance that during the 90 minutes reflects the moments of success and also the moments of greatness when overcoming every time he manages to get up after a failure.

Be Messi for a day!
Take advantage and participate in the Challenge10byMessi, a family experience where you can experience being Messi for a day. Make your dream come true! Come to Messi10 Challenge LaLiga and be Leo Messi. Try to make a goal like just him, show everything you know about little known aspects of his career, and much more!
Discover all the information here.

Do you know the history of Cirque du Soleil?[1]
A company of street artists in the small city of Quebec becomes a name known throughout the world. Cirque du Soleil has redefined the way the world sees the circus; from a talent of small towns to a recognized name.
Embryonic Beginnings
At the dawn of the 1980's, a troupe of performers founded by Gilles Ste-Croix took their talent to the streets of Baie-Saint-Paul, a charming village on the shores of the St. Laurent River near Quebec City. Known to the public as Les Échassiers de Baie-Saint-Paul (The Stiltwalkers of Baie-Saint-Paul), this group would form the core of what would grow into Cirque du Soleil. This crew had an eclectic show, highlighting jugglers, dancers, fire breathers, and musicians who pleased local fans with their act. Little did these early fans and performers know that these embryonic beginnings would lead to something magical, exciting, and revolutionary on a global scale.
Expansion of a Idea
Cirque du Soleil made waves in the international scene for the first time in 1987 upon their first tour of the US. We Reinvent the Circus stunned Los Angeles Festival fans and media alike with its unique approach to the circus. Detailed set design, a stage flanked by seating on all sides, and dynamic audience interaction- with audiences being engaged with both physically and imaginatively- pioneered the refined template that is found at the core of every new Cirque du Soleil show thereafter. After sell out shows in San Diego and Santa Monica, We Reinvent the Circus spearheaded Cirque du Soleil's first overseas tour of Europe in 1990.

Where to buy tickets and how to get to Forum?
In this link you can buy tickets from € 39 and you will find all the information you need.
Arriving at the Forum from the Continental Hotel is possible by suburban train (35 minutes from "Catalunya" station) or by taxi (25 minutes, depending on traffic).
Live the Messi 10 by Cirque du Soleil experience!
Enjoy the show and Barcelona to the fullest!
See you soon!
[1] Cirque de Soleil oficial website https://www.cirquedusoleil.com/about-us/history