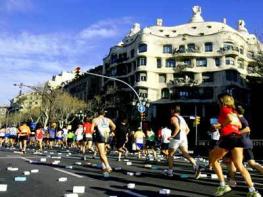 On sunday… Marató de Barcelona 2015
The expected day has arrived, the Barcelona Marathon 2015. Book a room with us at the Hotel Continental Hotel Continental Barcelona or Palacete!
The increasingly popular the Barcelona Marathon is a race of 42,195 kilometers that started in 1977 and usually has a flat route that follows a scenic itinerary through the city of Barcelona.
In recent years BCN Marathon has become very popular among runners from around the world and quickly has become a classic in the international marathon calendar with over 15,000 runners in the edition of 2014 and more are expected in the 2015.
The the Barcelona Marathon very well organized with a path entirely in the city of Barcelona with water points lining the route, massages and showers as well as plenty of locker rooms at the start and finish. For the thousands of spectators, entertainment spots exist along the route with food tasting, concerts and other sports and cultural activities. Register now for BCN Marathon 2015!
Click here to reserve your hotel barcelona
Click aqui per fer la seva reserva hotel barcelona
Click aquí para hacer su reserva de hotel barcelona
Clickez ici pour faire votre reservation d' hotel barcelone