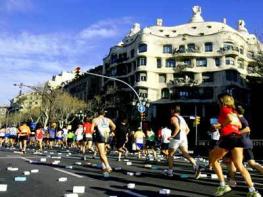 Marathon de Barcelone, March 25th 2012
The countdown for the 2012
Barcelona Marathon
has started and registrations are open. Get a 15% discount if you book a room with us at
Hotel Continental Barcelona!
The increasingly popular Barcelona Marathon is a 42,195 km race that started in 1977 and usually has a flat route that follows an scenic itinerary through the city of Barcelona. In recent years the BCN marathon has become very popular with runners from all over the world and is fast becoming a classic on the international marathon calendar with over 15.000 runners in the 2011 edition and more expected in 2012. The
Barcelona Marathon
is very well-organised with a route entirely in Barcelona city with water points lining the route, massage service and showers, as well as plenty of changing rooms at the start and finish line. For the thousands watching the event there are be entertainment points along the route with food tasting, concerts and other sports and cultural activities. So
register now for the 2012 BCN marathon
!
Le Marathon de Barcelone aura lieu le Dimanche 25 Mars 2012, tout au long d´un itinéraire totalement urbain.
La course s´étend sur une longueur de 42,195 km et est autorisée (reconnue) par la Fédération Catalane d'Athlétisme, à travers du comité de l'IAAF. Profitez des rues de Barcelona en plein Marathon ainsi que de tous les moments forts de la ville. Inscrivez-vous au marathon de Barcelone et profitez de 15% de rabais sur nos tarifs logement à l´Hôtel Continental de Barcelone. Courrez et Gagnez !
Click here to reserve your hotel barcelona
Click aqui per fer la seva reserva hotel barcelona
Click aquí para hacer su reserva de hotel barcelona
Clickez ici pour faire votre reservation d' hotel barcelone