Love and Culture This Weekend for Sant Jordi!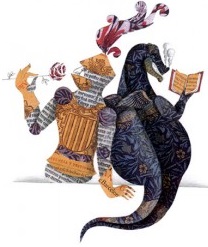 So far in so short of the year, we have shown already much of the multifaceted art that owns our city. We have seen from a Barcelona with lights and color for Christmas, a technological and mobile with the MWC17, we have seen a sporty, and a marathon runners welcomer in the Zurich Marató of Barcelona. We have even rediscovered a transgressive and festive Barcelona during the Carnival.
Now we wish to tell you what is happening during this weekend in different parts of our city.
After Easter, which has left us a traditional and familiar flavour, spring brings us love and culture now.
Next April 23 is the day of lovers in Catalonia and on the dyad of Sant Jordi, is celebrated not only here but throughout the region one of the most cultural and romantic festivals in the country.
Sant Jordi in la Rambla!
During Sant Jordi, the Rambla is full packed of books and roses. As tradition says, next Sunday, the man will give a rose to his love and the woman a book to hers. Over the years, the firm meaning of the gifts has become an exchange festival of books and roses between loved ones, family and friends.
Right in the emblematic sites where our two hotels are located: in la Rambla de Canaletes (our Hotel Continental Barcelona) and la Rambla de Catalunya (Hotel Continental Palacete), this Sunday Barcelona will become a fair of books and roses.
Just in the districts of Eixample and Ciutat Vella will be counted 1,897 book and 755 of roses storefront posts.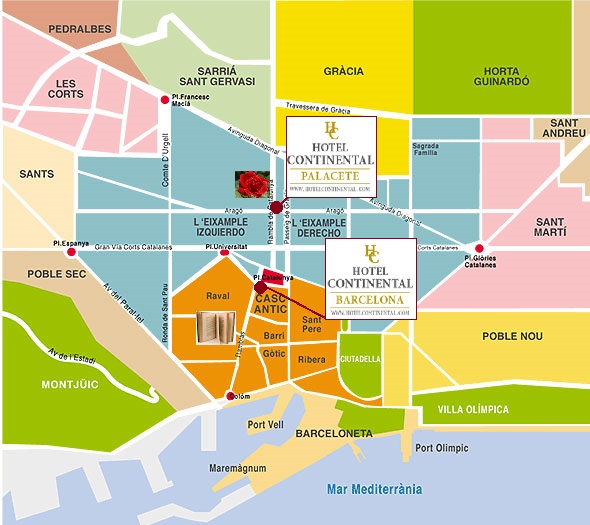 Apart from becoming an open-air and multi-cultural day, do not fear, from the same Eixample they have promoted measures in la Rambla de Catalunya to make fluid mobility and walking more comfortable, and have expanded pedestrian crossings as well as enabled access in each section of street to be able to leave every section of la Rambla.
An extra great protagonist during this weekend is the Passeig de Gràcia. The two most fashionable sidewalks of the city, this year will count with great writers of today as the winner of the Miguel de Cervantes Prize 2017, Eduardo Mendoza. Know who and where you will find this year in the book signing of the dyad of Sant Jordi here (in Spanish).
From la Rambla to Passeig de Gràcia
La Pedrera (Casa Milà)
Next Sunday, La Pedrera will be visited for some (since tickets for this special occasion have been exhausted, but not those of daily visits) with an exclusive guidance to the tribune of Casa Milà. The lucky ones with entrance, will be able to go up to the balcony with their love and give them the rose and the book.

Casa Batlló
Legend has it that from today until April 23, Sant Jordi and the dragon will come to life at Casa Batlló. A bout with a single winner. The dragon will fall after being pierced by the lance of Sant Jordi and a blanket of roses will cover the facade under a shower of petals that will flood its inner courtyard.

And finally, we are very pleased to offer you the best option to fuel your morning before embarking yourself on the streets of Barcelona during this dyad of Sant Jordi:
A salty food: the bread of Sant Jordi.
It is a kilo bread with sobrasada and cheese cooked in a way that, when cut, it shows the Catalan senyera colors. The master baker Eduard Crespo created it in 1988 by order of the Gremi de Flequers de Barcelona. The reason of its creator was motivated by the anxieties to find a specific food for the celebration of Sant Jordi. This bread has become popular and can be found on other dates, such as l'Onze de Setembre or La Mercè.
It really is a delight, the taste of the best Catalan bread fused with the salted cheese and sobrasada.