The best plans to experience Christmas in Barcelona
Find your favourite plan for this Christmas time and enjoy Barcelona with us!
Barcelona offers you a wide variety of plans to experience an exciting Christmas, full of tradition, surprises for all interests: culture, tradition, gastronomy, shopping and sport.
"Fira de Santa Llúcia" in front of the Cathedral
Just 10 min. from the Hotel Continental Barcelona and 20min. from the Continental Palacete is the traditional "Fira de Santa Llúcia", a concentration of products and a Christmas atmosphere that has been celebrated since 1786! Located on Avenida de la Catedral in Barcelona, ??it once again fills us with illusion and light for the Christmas time. Take the opportunity to enjoy the atmosphere and start enjoying Christmas until December 23!
With a total of 192 stalls, it is the only fair in the world where you will find more than 160 spaces for the sale of strictly Christmas products, such as nativity scenes, figures, moss, Christmas trees, home accessories and much more. In addition, you can also enjoy more than 30 spaces dedicated to gift items, such as textile accessories, ceramics, jewelry and costume jewellery, leather, etc.
Find all the information on their website here.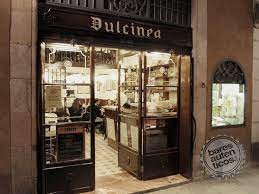 Enjoy the "turrones" and the "churros" with chocolate!
If you visit Barcelona, ??you cannot miss a delicious chocolate with cream and the famous "churros". You will find the best at the Granja Dulcinea, founded in 1941 and located in the wonderful Petritxol street. A pedestrian route that is worth walking through and enjoying, it will also lead you to Plaza del Pi, a beautiful corner of our city, take advantage of it and visit the Basilica of Santa Maria del Pi (pine tree, in Spanish), in Catalan Gothic style.
They also make a very good chocolate with "churros" or "melindros" in another emblematic farm in Barcelona, ??Granja Viader, also in the Gothic Quarter, on Xuclà street no. 6 and that it was founded in 1870! Discover here all its long and interesting history.
In the latter, it is where we used to go with our grandmother. She told us that she went with my grandfather when they were dating, but they could never go alone. At that time, the couple, until they got married, had to be accompanied by a member of the family… How things have changed!
You can enjoy the "turrones" and buy them in various central stores in Barcelona, ??a Christmas sweet that you are going to love! It is also the perfect gift for your friends and family, you can take them in your suitcase without storage problems.
Here we give you the information about the two best ones with a long family tradition in Barcelona:

Solidarity concert "Dona Gospel" of the entity "Lloc de la Dona"
Next Monday, December 19, from 5:30 p.m. to 7:30 p.m., there will be a very special concert organized by the Fundació Tot Raval, an entity that promotes community life in the Raval neighborhood, which is located in front of the Hotel Continental Barcelona.
This is the "Dona Gospel" choir promoted by the NGO "LLoc de la Dona" and whose purpose is to promote the social integration of women and facilitate their empowerment.
In addition, the concert will take place in the Virgen del Carmen Parish (c/ Antoni Abat 10, 08001 Barcelona), before it, the history of the parish will be explained, the "Lloc de la Dona" association and its work will be presented, as well how the conclusions of the project to promote sustainable tourism in the Raval neighborhood will be revealed.
A meeting to immerse yourself and get to know the most authentic and supportive Barcelona. Confirmation in this link

"Course of the Nassos 2022"
One of the most emblematic races and sports events in our city. Say goodbye to 2022 walking the streets of Barcelona's waterfront and end up taking a bath on the beach!
A 5 km route that will start at 7:00 p.m. and is part of the international calendar of the WA (World Athletics).
On this website you will find all the information and you will be able to register.