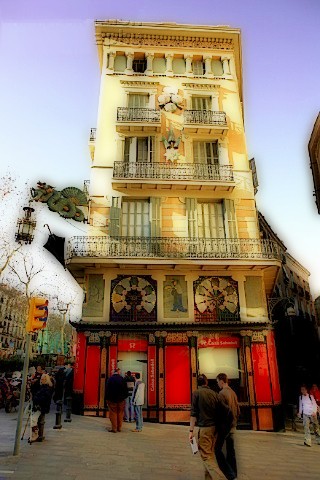 Las Ramblas and 'The House of Umbrellas'
Strolling through Las Ramblas of Barcelona is like having thirty thousand satellite channels on your TV. There you go around and look around, twenty-four hours a day. Many say that Las Ramblas is all of us, who daily walked up and down the five course sections. And they are right, but half-right 😉
Las Ramblas are also what do not move, what stands there for so long.
It is not impossible to describe Las Ramblas detail by detail. Either way, if someone did so, rather than be a step-by-step blog the writing could be the Adventures of Don Quixote and Las Ramblas: an exceptional and long novel as well.
In this post we will talk about a particular building. Perhaps we have missed it out while distracted by the crowd, but if we looked up at the height of La Boqueria, towards the sea before reaching the Liceu Theatre and on the left side -it is easier than it seems- there is a very curious house in the corner with Pla de La Boqueria: The Bruno Quadros House, or the House of the Umbrellas (La Casa dels Paraigües, in Catalan).
It is an eclectic building, a confluence of various styles and architectural elements.
In 1883, before the Spain's first International World's Fair, the Catalan architect Josep Vilaseca was commended to reform the merchant Bruno Quadro's home. By those days, Barcelona was being reformed too. A lot of beautiful and innovative structures were being built because of the great exhibition. Vilaseca did not think out of tune and also did use an incipient modernist style combined with oriental inspiration. The result was balconies and galleries with Egyptian reminiscence; on the facade, the memory of the East with graffiti and windows with umbrellas and fans made of cast iron.

And in the store located at the street level, where Mr. Quadros had for many years an umbrellas shop (and hence the House of Umbrellas), Vilaseca was able to create a striking space with colors, with finest works of carpentry and also drew on the glass some rendered Japanese prints in which the architect used to see nature in a totally different way.
Even with all this, the icing on the cake is a large Chinese dragon made of wrought iron. Strategically placed at the apex of the two main facades and holding a beautiful oriental lamp. And at the same level, a tad below, there is a floating umbrella as a claim of the famous store.
Today there is no longer such a shop. After the reforms of the House of Umbrellas in 1980, it have become a bank branch. Of course, well worth is stopping in the middle of Las Ramblas to gaze at this work as carefully and in detail as your time permits.
From Hotel Continental Barcelona at the top of Las Ramblas, and Hotel Continental Palacete, just 3 min walk away from Las Ramblas, it is imposible not to walk down towards the sea, then we invite you to stop by this House of Umbrellas.