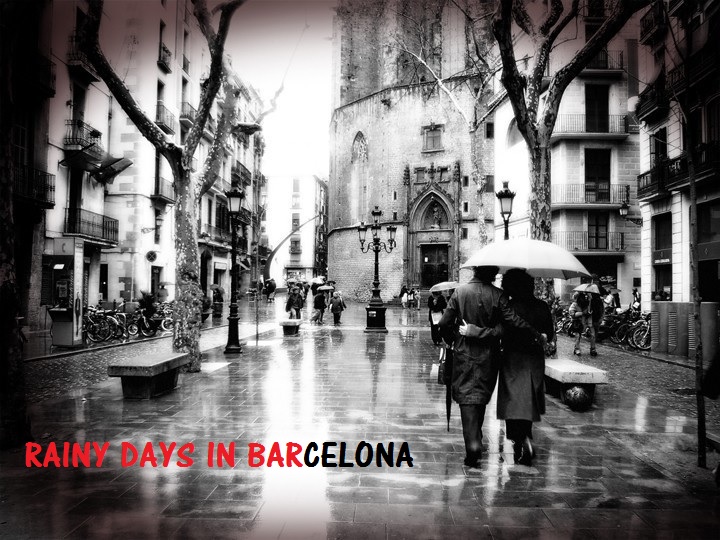 We could actually say that in Barcelona it rains down 4 days in April. However, in one of those what seemed to be a sunny morning becomes a grey and overcast sky. Suddenly, instead of 4 drops, we are facing a tremendous downpour.
Do not despair. We know you have been planning your trip for days and finally your getaway weekend and your plans have been boiled as the weatherman played a trick on you.
Again, do not despair. In the following lines we are giving you some PLAN B to your scheduled visit to Park Güell, the wander down Las Ramblas to the Port…
Still go have a drink! It is true that taking a beer on a terrace on a sunny day is one of the most authentic pleasures of the Spaniards. Even so, we invite you to discover the inside of some coffee shops in Barcelona that can be so distracted as the bustle of the streets and the outdoors.

El Bosc de Les Fades: in this enchanted forest (bosc in Catalan), hidden in Las Ramblas next to the wax museum, we find the best combinations to appease the thirst. Nymphs, fairies (Fades in Catalana), gnomes and magical creatures will make your evening in the city a real fantasy.

 Museo de Cera, Passatge de la Banca, 7, 08002.

Bosc de Les Fades

The Marquise Decadente: a delicate pastry shop where you can try so common pies like chocolate or strawberry, as other somewhat unusual as zucchini, beets and sweet potatoes pies. A highly recommended for both sweet lovers and those who are not that experienced!

Carrer de Casanova, Barcelona, 191, 08036.

Akashi Gallery: a sushi bar and a photo gallery both born from an experience shared by two photographers. They spent 365 days in a campervan touring Japan. During the trip they had the opportunity to discover charming cafes which inspired them to create Akashi Gallery in Barcelona. Highly recommended are their desserts, all totally homemade.

Carrer de Rossello, 197, 08036.
Let's go shopping! It doesn't matter if it is sunny, windy or rainy. This activity is almost a must in Barcelona. We have some shopping centers ideal for those rainy days.

Maremagnum: open every day of the year, including Sundays and holidays. It has a cinema, a food court and an official FC Barcelona shop among other fashion and leisure stores.

Edificio Maremagnum, Moll d'Espanya, 5, 08039.

Maremagnum

Las Arenas: this modern space integrates trade, leisure and culture. Also it combines past and present. It is the oldest bullring in Barcelona turned into a shopping center with a lookout spot that offers one of the most emblematic views of the city.

Gran Via de les Corts Catalanes, 373-385, 08015.

Diagonal Mar: although it is a little further from the center of Barcelona, this shopping mall will surprise you. Located in the postmodern district of San Martí, Diagonal Mar center has over 200 shops with leading fashion, home and lifestyle brands. Also with culinary offerings from around the world and 17 cinemas. In addition, Diagonal Mar pampers tourists with Tax free shopping, discounts and exclusive Taxi stop.

Avinguda Diagonal 3, 08019.
Every cloud has a silver lining! Take advantage of the rain to spend a cultural day in Barcelona. The offer of museums and cultural centers here is immense and high quality, we propose 3 of the most interesting centers.
Picasso Museum: Landmark on the formative years of Pablo Picasso. IN here it is discovered the link of this great painter with the city of Barcelona, travels Barcelona-Paris, Paris-Barcelona and all his Blue Period (1901–1904),  though not as exhaustively as that of his formative years.

Carrer de Montcada 15, 08003

.
The MNAC Museu Nacional d'Art de Catalunya: occupies the National Palace, emblematic building of the International Exhibition of 1929, and welcomes parts of all the arts (sculpture, painting, objets d'art, drawings, prints, posters, photography and numismatics). The mission of this museum is to explain the magnitude of Catalan art from the Romanesque to the mid-twentieth century.

Palau Nacional. Parc de Montjuic Palau Nacional, 08038.

Museum FC Barcelona is one of the most visited museums in Barcelona. Truth is that the passion for football and the Blaugrana team crosses continents. Apart from being able to see pieces related to the sport club of 100 years old, there is also the option to access to the famous Camp Nou. If still seeking for more, there is also a type of ticket which gives you access to the museum and the football field, a tour in the locker room, press room, VIP room, even allows you to sit on the bench and feel the grass under your feet.

C/ Arístides Mallol s/n (Main entrance No. 15) o Av- De Joan XVIII (Boulevard: No. 9), 08028.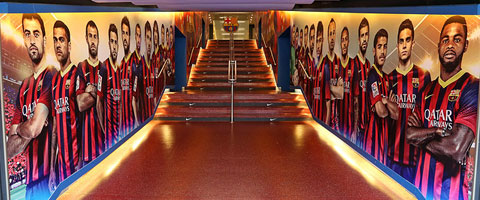 These are four plans B for one of those few gray and rainy days in which Barcelona. If you are curious about what more can offer you  the city on your vacation do not hesitate to ask! In Continental Hotels in Barcelona we will be happy to inform and advise you about other PLAN B as the Aquarium, cinemas, concerts, theater and much more.