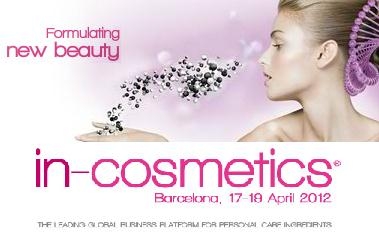 In-Cosmetics Barcelona 2012

In-Cosmetics
is the leading global salon for personal care products. It is held annually in spring in a European city, where all the cosmetics sector meets. The 2011 edition took place in Milan. It brought together nearly 7000 professionals looking for the latest in cosmetics and for personal care products. In total, there were 560 exhibitors in over 10,000 square metres.
In-Cosmetics
2012 in addition to exhibitors, visitors and thousands of professionals, there will be as always educational programs focused on the most innovative and important cosmetic topics.
The most important cosmetic and personal care products proffesional fair takes place this year in Barcelona.
Where? FIRA Barcelona April 17th-April 19th
In-Cosmetics es el salón líder mundial de productos de cuidado personal. Se celebra anualmente en primavera en una ciudad europea, donde todo el sector de cosmética se encuentra. La edición de 2011 tuvo lugar en Milán. Reunió a cerca de 7000 profesionales que buscaban lo último en cosméticos y productos de cuidado personal. En total, hubo 560 expositores en más de 10.000 metros cuadrados.
En el In-Cosmetics 2012, además de expositores, visitantes y miles de profesionales, habrá como siempre programas educativos centrados en los temas estéticos de lo más novedosos e importantes.
La feria de productos de cuidado más importantes de cosméticos y personal profesional se lleva a cabo este año en Barcelona.
¿Dónde? FIRA de Barcelona 17 abril a 19 abril
Click here to reserve your hotel barcelona
Click aqui per fer la seva reserva hotel barcelona
Click aquí para hacer su reserva de hotel barcelona
Clickez ici pour faire votre reservation d' hotel barcelone