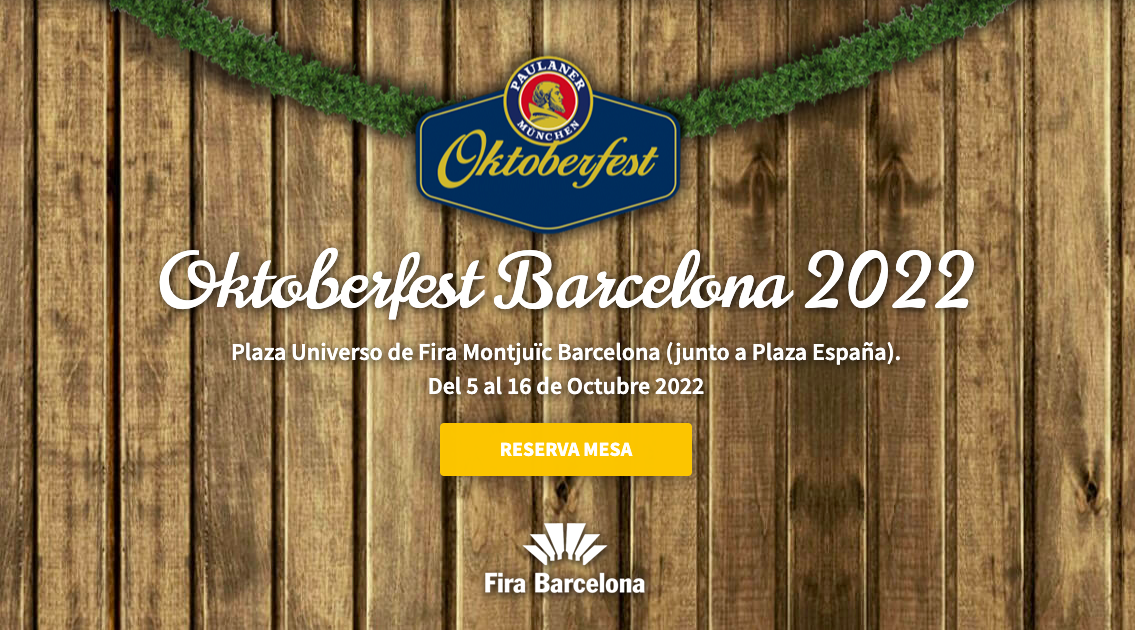 Oktoberfest Barcelona returns to the Montjuïc exhibition centre in 2022
Can't miss Oktoberfest Festival in October!
If a visit to Oktoberfest is on your bucket list, but the October temperatures in chilly Munich keep putting you off, there's good news.
Oktoberfest Barcelona is back at the Montjuïc exhibition centre from the 5th October 2022 to the 16th October 2022. With average evening temperatures over 10C higher in Barcelona, it's the place to enjoy all the traditional festivities of a genuine German Oktoberfest – without the winter woollies.
Including the covid closures of 2020/21, this will be Oktoberfest Barcelona's 9th annual festival, and bigger and better than any before.
This year, the massive festival marquee will be filled with German and international bars, genuine Bavarian street food stalls, serving staff in traditional Bavarian costumes, and entertainment stages and public seating. And it doesn't end there.
Outside the marquee will be more beer bars, DJs, German food stalls, Spanish tapas bars, and other stalls offering delicacies from around Europe. There are also five entertainment areas for the kids, and retail kiosks to purchase souvenirs of Oktoberfest Barcelona. Best of all, Entrance to the Festival is Free.
Book early to avoid disappointment
Are you considering a visit for the whole 12 days, or a short city break to take in a couple of days of the festivities? Pre-booking both your hotel and a free table in the marquee is recommended. Hotels book up very quickly with visitors from across Europe for this top-rated event: and for security and safety reasons, entrance to the main tent is limited on a daily basis.
The festival kicks off when the Master of Ceremonies taps the first wooden barrel, and announces over the tannoy to all and sundry, 'It's tapped' ( in German, of course).
With the festivities beginning and ending at different times on different days, you'll have a few hours to fill. What better way to do that than with a bit of sightseeing around the beautiful city of Barcelona.

The best place to stay
Booking the Hotel Continental Palacete as a base for your visit to Oktoberfest Barcelona gives you the best of both worlds. Located on La Rambla De Catalunya, the hotel is a protected Spanish Monument right in the heart of the L'Eixample district, close to many of the Catalan capital's most iconic buildings and shopping areas. With comfortable, relaxing rooms and suites, attentive service and a 24 hour buffet, it is in an ideal location for those city breaks.
Best of all, from the landmark Hotel Continental Palacete, you are just a short five-minute taxi ride, or a pleasant 25-minute stroll from the Oktoberfest venue, passing many of Barcelona's most famous attractions.
This year, why not mix Barcelona's Oktoberfest and a little city sightseeing, with a stay at the beautiful Hotel Continental Palacete.