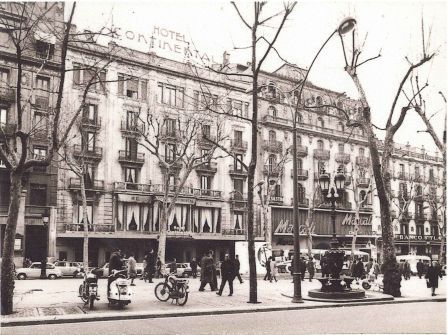 Hotel Continental…..parte de la historia
¿Porque se celebran los triunfos del FC Barcelona en la Fuente de Canaletes?
En el pasado, la dirección del Barça se reunía en los antiguos salones del Hotel Continental para hablar y discutir sobre las actividades del equipo. Los aficionados esperaban en frente del hotel, en La Rambla, esperando que salieran los directivos para poder ser lo primeros en conocer las noticias y novedades sobre nuevos fichajes. A raíz de esto, los triunfos del FC Barcelona empezaron a celebrarse frente al Hotel Continental junto a la fuente de Canaletes.Why does FC Barcelona´s triumphs get celebrated in the Fountain of Canaletes?
In the past, the directors of Barça met in the old halls of the Hotel Continental to talk and discuss team activities. Fans waited in front of the hotel, in La Rambla, waiting for the management team to leave the hotel so they could be the first to know about news and updates on new signings. Following this, the triumphs of FC Barcelona began to be held in front of the Hotel Continental at the fountain of Canaletes.
Click here to reserve your hotel barcelona
Click aqui per fer la seva reserva hotel barcelona
Click aquí para hacer su reserva de hotel barcelona
Clickez ici pour faire votre reservation d' hotel barcelone