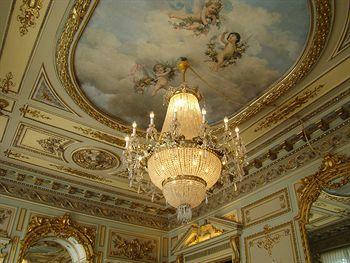 Hotel Continental Palacete – Landmark Hotel
Continental Palacete a Monument Hotel for your stay in Barcelona 
In recognition of its heritage and historical value, Hotel Continental Palacete has been awarded Monument Hotel status by the Gremi d'Hotels de Barcelona association. Read more about what makes the Hotel Continental Palacete deserving of the recognition and the historical riches associated with the property.
Award of Distinction
In a city with an estimated 75,000 hotel beds to choose from, to be one of only 18 properties awarded this status is a special honour for Hotel Continental Palacete. A specific set of stringent criteria ensures only the most deserving hotels qualify. Hotels must be listed in the Inventory of Architectural Heritage of Catalonia or of the Barcelona City Council, be listed as a cultural asset locally or internationally and meet quality criteria determined by the GHB Executive Committee. No small feat for any property.

Hotel History
The hotel might be known now for its iconic frontage on La Rambla de Catalunya, but it started its life on the road that runs parallel, the Passeig de Gracia. Built as a grand family mansion in the mid 1860's, the 'Casa de Fabra' was moved brick by brick and rebuilt at its current home in the following decades. As the area around the mansion got busier the owners decided a quieter street was more suiting to their lifestyle, and rather than starting fresh, took their grand home with them.
136 years later in 1999 the mansion started its new life at the caring hands of Pilar Vallet who fell in love with the property after seeing it for sale in a local paper. While the charm was still there, the years had taken their toll on the building, so the Vallet family lovingly, authentically and carefully refurbished the building and gently adapted it for use as a hotel.

Heritage Highlights
The period charm of the property is evident throughout, but at its heart it's the Versailles Suites that lead off from the Luis XV lounge that are undoubtedly the star of the show. Featuring high Cartier-glass windows that fill the spaces with golden light and illuminate the original 1863 mouldings, as well as spectacular marble fireplaces, display cases with original silverware and ornate balconies overlooking Rambla de Catalunya, both the lounge and the suites tell stories of Barcelona's history.
A pink theme runs throughout many of the rooms, a décor choice made in the 1860's that adds a softness and romanticism to the building often lovingly called 'the pink hotel'.
Affordable Heritage
The Monument Hotel recognition is even more special for a hotel that prides itself on room rates that are exceptionally competitive. While remaining true to its heritage the property features modern conveniences and homely touches designed to ensure guest satisfaction and relaxation. Night and day concierge services offer local know-how for guests keen to dive into authentic Barcelona and a complimentary buffet inspired by generations of Vallet family recipes adds to the love of history and heritage that runs through the hotel.