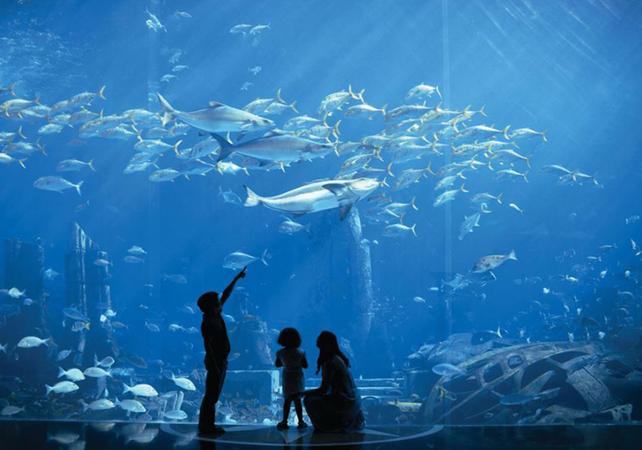 Four Family Friendly Barcelona Favourites
Barcelona With The Kids – Winter Guide
If you're planning a Barcelona break with the family this winter, then you'll need to plan more than 'looking at old buildings' to win over the TikTok generation. So, we've rounded up four of our favourite kid friendly activities that are fun for the whole family, look great on Instagram, and will broaden their cultural horizons without them even realising.
L'Aquàrium
An oversized fish tank this is not. This is the kind of up close and personal ocean experience that is record breaking in size and marine diversity, with more underwater life in one space than you're likely to see elsewhere. There are of course plenty of educational opportunities with themed areas, interactive exhibits, and knowledgeable guides. But, if there's one thing that will really grab the kids attention is the Oceanarium's 80metre long transparent tunnel where sharks and rays, moray eels and sunfish swim around and above you. Smaller children who might find the shark encounters a little intimidating will love the separate aquariums that are home to brightly coloured coral habitats, graceful seahorses, and playful penguins. Just one warning, once your kids see a baby shark in real life, there's always a risk they won't stop singing that song…
If you really want to make your Barcelona family trip one that they'll never forget then the aquarium also offers some very special and exclusive experiences. Not only can you book a private guided tour with access to some of the behind-the-scenes areas, you can even go diving with the sharks! If those experiences are beyond your holiday budget, don't worry, the shark, penguin and ray feeding times are also a highlight of a visit to L'Aquàrium.
Prices: Adults (11+) €21,00 / Children (5-10) €16,00 / Children (3-4) €8,00
Location: Port Vell, Moll d'Espanya
Opening Times: Check direct at https://www.aquariumbcn.com/ for the most up to date opening times.
Safety: They've taken all the recommended precautions and have even limited the number of visitors to ensure health and safety of guests.

Museu de la Xocolata
Yes, it's a museum, but before your kids roll their eyes, you should probably tell them it's a chocolate museum. And this is not just a place to learn about where chocolate comes from or how it is made, this is a great place to taste everyone's favourite sweet confection.
Located in a former monastery, the museum will guide you from the origins of chocolate all the way through to the present day, with fascinating exhibits and chocolatey distractions throughout. A highlight of the museum is the collection of chocolate sculptures made by Barcelona's chocolatier masters, that must be seen to be believed. Of course, if you find the kid's attention-span lacking then don't feel bad about making your way quickly through the exhibits on your way to the museum shop-café where the beautiful vaulted ceilings are the setting for some mouth-watering chocolate tasting, whether you prefer it hot or cold.
Prices: €6 / Children under 7 are free
Location: Carrer del Comerç, 36
Opening Times: Tuesday to Sunday 10:00am – 7:00pm
Safety: Depending on when you are planning on travelling it's always a good idea to check directly with the museum for the current health and safety protocols.
CosmoCaixa
From the universe's beginning to tomorrow's world, CosmoCaixa takes the whole family on an interactive and fun journey into the world of science. Step into a flooded Amazonian jungle where boas and caimans, fluffy capybaras and tiny leaf-cutter ants give you a taste of one of the most biodiverse regions on the earth or make your way into the Universe Room where the exhibits are designed to capture the imagination and excite curious young minds. A selection of different museums, changing exhibits and tours from enthusiastic 'teachers' makes this a great idea for a family day out in Barcelona.
Prices: €6 / Children under 16 are free
Location: c. Isaac Newton, 26
Opening Times: Monday to Sunday from 10:00am – 8.00pm
Safety: The museum has put in place a full list of recommend precautions to keep you safe during your visit.

El Poble Espanyol
Squashing the spirit of Spain into one village within the city limits, El Poble Espanyol is home to 117 buildings (inspired by the 1600 towns visited by its architects), 25 artisans and a schedule full of family-friendly activities. Located just a short distance from Montjuïc Fountains the open-air museum has a fantastic Fiesta space designed to capture the emotion and the vibrance of Spanish culture and festivals. You'll also be able to see craftsmen working with traditional methods and interact with a number of exciting exhibitions and attractions.
Prices: €6 / Children under 4 are free
Location: Av. de Francesc Ferrer i Guàrdia, 13
Opening Times: Saturdays and Sundays from 10:00am – 5:00pm
Safety: Depending on when you are planning on travelling it's always a good idea to check directly with the museum for the current health and safety protocols
Stay and Save
Hotel Continental's two properties are located in the very heart of the city within easy reach of public transport connections and moments from Barcelona's most famous tourist attractions. Their Family Package includes a cookie and hot-chocolate welcome pack and 24-hour ice cream buffet to keep the kids happy, and to keep your wallet happy, children under 5 stay overnight for free.