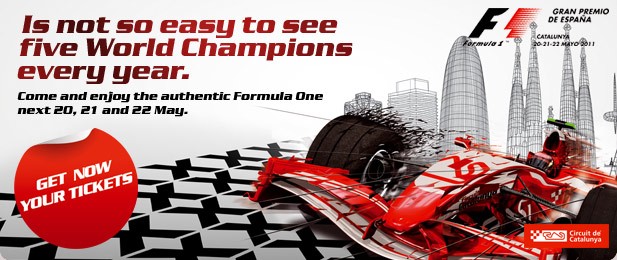 FORMULA ONE SPANISH GRAND PRIX 2011
The
Gran Premio de España Telefónica
de F1 will be held at the Circuit on 20, 21 and 22 May.The 2010 season will have several novelties, such as Fernando Alonso joining Ferrari. But it won't be the only change in the teams. There will be other protagonists, such as Jaume Alguersuari or Pedro Martínez de la Rosa. The changes in the technical regulations will force engineers to reinvent the single-seaters: they will need a bigger tank to hold the fuel for a whole race, there won't be any Kers and the front tyres will be narrower, forcing them to reconsider the weight distribution and the suspension model.
Catalunya will be the first event in Europe after the tour that will take the championship to Bahrain, Australia, Malaysia and China, and in all probability, the teams will be bringing the definitive versions of their vehicles. There will be new teams, such as USGP, Manor GP and Campos GP, and a classic like Lotus will be back on the track.
A ticket with many advantages
– On thursday of the Grand Prix you will have the chance to visit the Pit Lane of the Circuit. And watch the drivers and mechanics in their garages.
– On Friday you may access any grandstand with a general admission ticket, except grandstand C.
– During the three days of the Gran Prix you can walk around all public areas in the asphalted paths that connect the different areas inside the Circuit.
– You will be able to follow the whole race without missing a single detail from any place thanks to giant screens strategically located around the Circuit.
– You may listen the radio broadcast of the race within the Circuit, tuning in to 103.2 FM (for Spanish and Catalan) and 94.2 FM (for English and French).
– Free entrance to the grandstands for children under 5 years old not occupying a seat. Children under 11 years old have free access in general admission. During the Grand Prix, the children will have to show their id or passport to access the Circuit going with an adult.
Services
1-Disabled persons
The Circuit has adapted facilities for disabled persons using a wheelchair. Disabled persons can access two grandstands, the main grandstand and grandstand G with a general admittance ticket. The accompanying person must buy a ticket for the respective grandstand.
Covered Main Grandstand
There is an access to the highest part of the grandstand which is fitted with a lift and a wheelchair WC. Access through gate 3. Exclusive car park, located in Car Park IN6.*
Grandstand G
The highest part of the grandstand is reserved for the disabled. Direct access through gate 1. Exclusive car park, located in Car Park A.*
*In order to have access to the exclusive car park, the car must be fitted with the respective sticker for the disabled. To make reservations for the accompanying person please call +34 93 571 97 43.
2-Giant screens
Strategically located on different spots of the Circuit, you may follow the race without missing a single detail.
3-Radio Circuit
Tune in to 103.2 FM, for broadcasts in Spanish and Catalan and 94.2 FM for broadcasts in English and French, and follow the complete information during the Grands Prix.
4-Official Circuit de Catalunya products
You may purchase all official products of the Circuit at any of the shops within the facilities.
5-Accreditation Centre
It opens at 09:00 a.m. on Thursday, at 08:00 a.m. on Friday and Saturday and at 07:00 a.m. on Sunday.
6-Services for companies
For further information contact: comercial@circuitcat.com
Fax: +34 93 571 97 30
Camping is forbidden in any other area of the Circuit.
How to get there
1-Car Parks
Car parks open their gates at 7:00 a.m. on Friday and Saturday and at 6:00 a.m. on Sunday. They are closed at night. It is not allowed to leave the cars parked throughout the night.
2-By train from Barcelona
Line 2 Cercanías RENFE Barcelona-Maçanet Massanes. From the train stations Sants, Passeig de Gracia or Clot to the Montmeló train station. Service available every 30 minutes. Trip duration: 23 minutes.
3-By train from Barcelona from Girona
Line 2 Cercanías RENFE Maçanet-Massanes Barcelona. Service available every 30 minutes. Trip duration: one hour. RENFE information: Tel. 902 24 02 02
4- Walking from the train station
From the RENFE train station in Montmeló there is an approx. 30-minute walk to the Circuit.
5-By bus from Barcelona
Sagalés:Trip duration: 45 minutes. Ticket sales: Sagalés ticket offices. Passeig Sant Joan, 52 From 07:00-13:00 hrs. and from 15:00-20:00 hrs., on working days, from Monday to Friday. For further information: www.sagales.com
6- Walking from the bus station
There is an approx. 10-minute walk from the bus station to Grandstand J. You will have to cross the East Area (marked on the map) where you will find all necessary indications to get to the gates and grandstands.
Ticket terms and conditions
You must not make/create/store/record/transmit any kind of sound recording/visual footage/audio-visual footage/information/other data. Equipment that may enable you to do the aforementioned acts is not permitted. Personal electronic devices including still image cameras/mobile telephones/other handheld personal communications devices are permitted provided that any images/films/recordings/data that are created/recorded/stored thereon are used for personal/ private/non-commercial use only.
On request, you shall assign in writing copyright/all other intellectual property rights in any images/films/recordings you create/record at the event to Formula One World Championship Limited (FOWC) and agree that such images/films/recordings shall not be used for public advertisement/ commercial gain/any other purpose (except private enjoyment) without FOWC's prior written consent.
Motor racing is dangerous and noisy. Sanctioning bodies, FOWC, Formula One Management Limited, Formula One Licensing B.V., Formula One Asset Management Limited, FIA, Allsport Management S.A., Beta Prema (UK) Limited, organisers of the Event (including officials, marshals, rescue, medical staff), competitors and drivers, are excluded from any liability for any loss or damage, howsoever caused, to you to the maximum extent permitted by law (except in the case of death or personal injury caused by negligence of the above parties).
Recommendations to come to the Circuit
1-Use public transport.
2-Arrive early, access will be easier.
3-To fully enjoy and make the best of the race days, we recommend bringing sun protection, sun glasses, a cap and comfortable footwear.
4-We also recommend using earplugs or hearing protection, especially for children.
5-There are car parks available for private vehicles. Free parking for motorbikes.
6-We suggest bringing a pocket radio to follow the excitement on the track live through Radio Circuit.
7-Always follow the instructions of the Police and the organization staff. For safety reasons, it is not allowed to access the Circuit with cans, glass bottles or any object that may be considered as dangerous.
Click here to reserve your hotel barcelona
Click aqui per fer la seva reserva hotel barcelona
Click aquí para hacer su reserva de hotel barcelona
Clickez ici pour faire votre reservation d' hotel barcelone