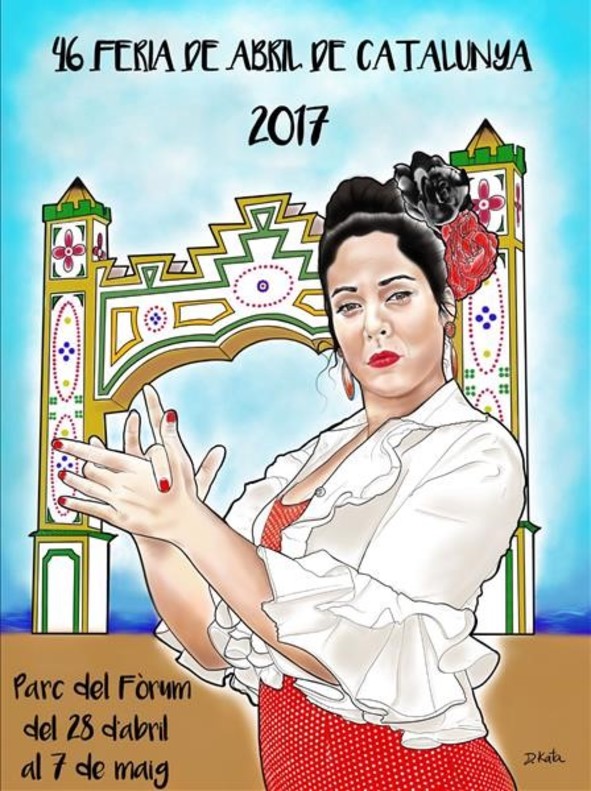 Feria de abril de Catalunya is back
Over the 60s and 70s it took place in Spain a major demographic shift. For workers in Andalusia, Catalonia became the land of opportunity. Even such was the number of immigrants installed that (exaggeration) Catalonia came to be considered "the ninth province" of Andalusia.
It is for this reason that for 45 years it has been celebrated in Catalonia one of the most colorful and authentic fairs of Sevilla, La Feria de Abril.
Until May 1, you are given the opportunity to unleash the flamenco in you in this 46th FERIA DE ABRIL DE CATALUNYA.
And for the last 12 years, this 2017 edition is held at the Parc Forum in Barcelona.
The opening on Friday 28 April, will be led by the president of the Generalitat de Catalunya, Carles Puigdemont, and the current mayor of the city, Ada Colau.
This year the exhibition is organized in 3 areas:
The Real, where are the 51 booths "casetas" – the canvas tent pavilions of varying sizes arranged along the streets-
the dining areas and
commercial spaces;

"Casetas" in line – Parc del Fòrum
The fair occupies an area of ??about 87,000 square meters, which will be divided into different thematic areas with the aim of differentiating the activities that can be carried out in the venue. El Real, where the houses of the entities and the space of the restoration are located, occupies about 54,000 square meters distributed among the 98 booths and bars that participate this year in the celebration.
The area of ??attractions, the so-called 'Calle del diablo', Hell Street, will feature a hundred attractions for all audiences. They will occupy an area of ??about 29,000 square meters on the Marine Zoo Platform.
Among the novelties of this year, there is the House of Culture: a giant tent destined to host musical performances, dance classes, exhibitions or presentations. An annex village will serve as VIP area for sponsors, artists and illustrious visitors.
Apart from the programming of live performances offered by each of the entities, on the day of the inauguration the Institutional Booth will count on the presence of the flamenco group Con otro aire, formed by the singer Silvia Mena, guitarist Marcos Pineda and the violinist Marcel Alá.
Throughout the Fair, the dance of the different associations that make up the Federation, the Brotherhoods and Rocio Choirs, and the official Ballet of the Federation 'A contratiempo' will perform on their stage.
From the heart of the city we encourage you to let your hair down and have a real Spanish week in Barcelona!
The entrance to the casetas is free to young and old alike!