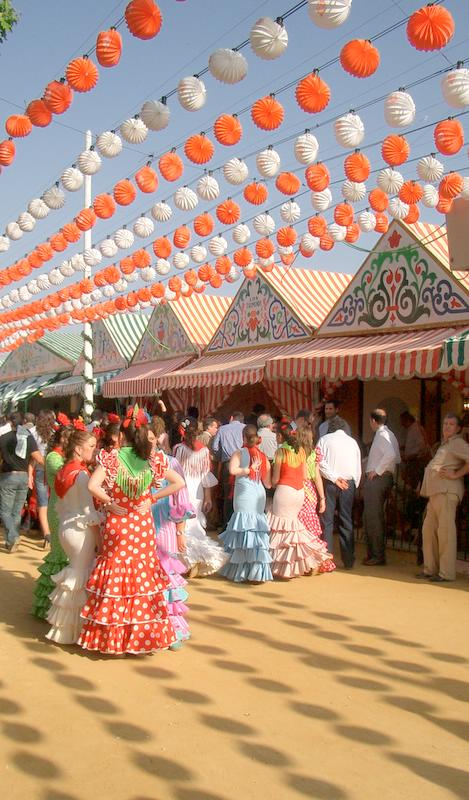 Feria de Abril Coming Soon to Barcelona
The Feria de Abril de Catalunya is the local Barcelona version of the renowned Andalusian ferias, the most famous of which is in Sevilla every year in April. The Feria de Abril in Barcelona does not have the same impact on the city and its residents as the Andalucian ferias in the south of Spain but it is undeniably a very festive event and worth visiting. The Feria de Abril in Barcelona has two main areas. One is an fairground with a huge ferris wheel, candy-floss, shooting galleries and many other funfair rides and amusements. The fairground is on the seafront by the Forum bathing area so you can enjoy spectacular views of the Barcelona coastline and city from the Ferris wheel.
The other area and the main feature of the Feria de Abril de Catalunya is the "casetas" area. Caseta means "little house." The Casetas are marquee tents temporarily erected on the forum fair area for the feria. There are usually around between 60 and 70 casetas which are operated by many different organisations and groups from banks to political parties and private organisations. In each caseta you can find a happy throng of visitors crowd eating, singing and dancing the "Sevillanas" traditional dance of Andalucia. Everyone joins in the dancing, from the youngest of grandchildren to the oldest of grandparents, and the atmosphere is fantastic. Many of the dancers wear traditional costumes for the Feria which adds colour and festivity. The men wear the traditional "traje de corto" (short jacket, tight trousers and boots)and the ladies wear "faralaes" or "trajes de flamenco," which is a flamenco style dress. For sustenance between dances, the the big Spanish families sit at long tables and enjoy an abundance of Jerez sherry, or manzanilla wine, and tapas. Another highlight of La Feria de Abril de Catalunya events are concerts with famous Spanish singers and bands.
Click here to reserve your hotel barcelona
Click aqui per fer la seva reserva hotel barcelona
Click aquí para hacer su reserva de hotel barcelona
Clickez ici pour faire votre reservation d' hotel barcelone