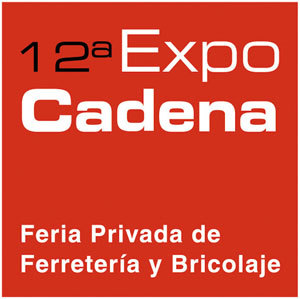 Expocadena 2012 Barcelona
Expo Cadena 2012 será en esta ocasión en Barcelona. Tendrá lugar los días 9 y 10 de marzo en el espacio de la Fira de Barcelona.
Se trata de un salón especializado en la ferretería, el bricolaje y la jardinería. Lo organiza uno de los grandes referentes del sector, la empresa distribuidora Ehlis.
Por ello, ExpoCadena es una cita obligada para todos los que se encuentran en este campo. Es un salón internacional que convoca a los profesionales cada año.
Este año es la 12ª edición de ExpoCadena. Vuelve a Barcelona tras su paso en 2011 por Madrid, continuando la alternancia entre las dos ciudades más importantes del Estado.
ExpoCadena 2012 reúne en Barcelona a los profesionales de la ferretería, el bricolaje y la jardinería.
Expocadena 2012 will take place in Barcelona on the 9 and 10 of March in the Fira de Barcelona.
This salon specializes in hardware, DIY and gardening. It is organized by a major industry benchmark, the distribution company Ehlis, so Expocadena is a must for all who are in this field. It is an international exhibition that brings together professionals each year.
This year is the 12th edition of Expocadena and it has returned to Barcelona.
Expocadena 2012 meets in Barcelona for professionals in hardware, DIY and gardening fields.
Click here to reserve your hotel barcelona
Click aqui per fer la seva reserva hotel barcelona
Click aquí para hacer su reserva de hotel barcelona
Clickez ici pour faire votre reservation d' hotel barcelone