It is "chestnut time" with Castañada in Barcelona
One of the best things about travelling is the opportunity to get to know somewhere new for holidays and experiencing on first-hand how they are celebrated differently.
If you are in Barcelona in October, get yourself ready to see your blood sugar sky-rocket as a habit. (Not suitable for diabetics). We celebrate castanyada. This Catalan tradition castanyada literally means "the chestnut time" and is closely bound up with the Christian holiday All Saints' Day (November 1st).
Over time, castanyada started to be celebrated on All Saints' Day Eve, October 31st. And then appeared the charming figure of lady castanyera selling baked chestnuts and sweet potatoes onto the streets.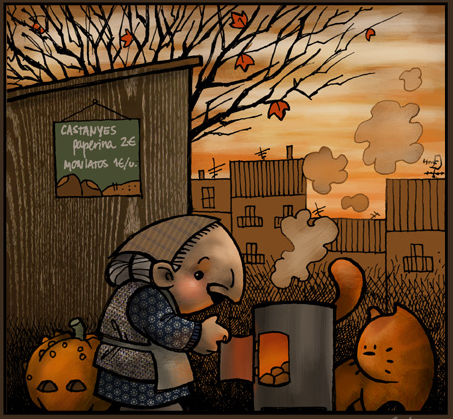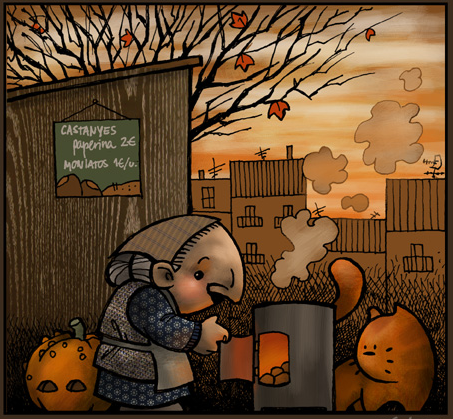 The celebration has its origins back in XVIII century and comes from the old funeral meals, when people were gathered around the table after the loss of a loved one. In those dinners, there were only vegetables and dry fruits. And to liven up the meal, it was served Catalan muscatel wine (a sweet wine).
That was the yesterday's lore, the meal had a symbolic sense of communion of the living with the souls of the dead: all roasting chestnuts, and praying the rosary for the deceased family. As for today, Catalans -following the Christian tradition- do spend All Saints' Day in family and go put some flowers on the graves but the festivity may have turned into a less funerary ritual party.
As we were saying on the top of these lines, October is the month of candy. Apart from the barbecued chestnuts and sweet potatoes, be careful with the panellets! These sweet marzipan-based little demons are irresistible and you will not only have one!
If you wish to live in first-hand some of the highlights of castanyada in Barcelona, from Hotel Continental and Continental Palacete we suggest you to check one of the 25 castanyeres in town, especially the one in Plaça Catalunya and the mother and daughter castanyeres in Universitat.