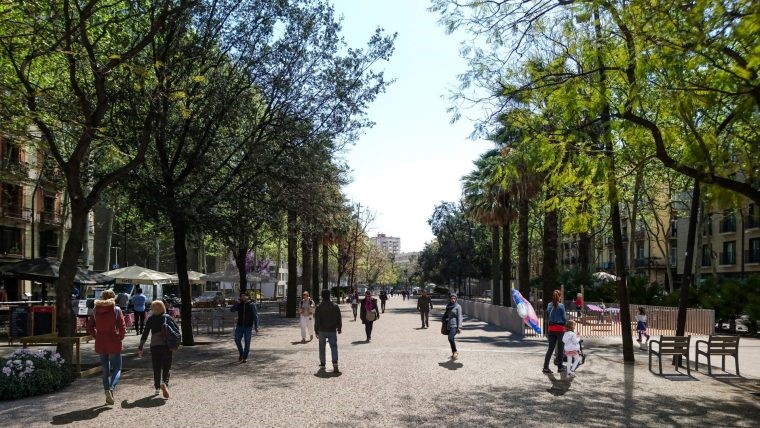 Come to know and enjoy our close Raval neighborhood!
El Raval is diversity, color and charming corners to discover!
The Raval neighbourhood, in the Ciutat Vella district, is located right in the centre of Barcelona and is home to around 45 different nationalities, which shows just how diverse its cultural richness can be. Anyone wishing to visit it will discover exceptional corners that you won't find anywhere else in the city.
Do you dare to ravalear? Yes, you read that right, it has its own verb.

Dare to discover the other side of the Raval!
Let the adventure begin!
The neighbourhood's location has allowed it to undergo an overwhelming transformation, from its beginnings as Barcelona's Chinatown, located near the port, to the Raval that we find today, with modern museums and cultural centres such as the MACBA (Museum of Contemporary Art), the Centre of Contemporary Culture of Barcelona (CCCB) and the recently added Filmoteca de Catalunya, among others.
On the other hand, it is important to highlight the birth of new multi-purpose cultural centres such as "El Bigote del Sr. Smith" located at 38, Joaquín Costa Street, becoming home to new talents. As well as, "Sala Fenix", with a theatre programme and exhibition hall located at 31, Riereta Street.
If there is one thing that makes it stand out, it is the authenticity and uniqueness of its narrow streets, which undoubtedly hide treasures that make the neighbourhood worth exploring. However, we must not forget that it is essential to adopt a new mindset when visiting and connecting to our surroundings. And we are referring not only to putting aside preconceived prejudices, but also to individual responsibility towards sustainable tourism.
How can you be a more responsible tourist in the Raval?
Going local, i.e. shops that have been in the neighbourhood all their lives, as they say, those that know the locals and are willing to reinvent themselves and adapt.
Consuming with a conscience, buying KM0 products that are environmentally friendly.
The most emblematic places are well-known, but… Why don't we delve into the hidden roots that make this bustling neighbourhood throb?
Are you ready to be surprised?

Let's start with probably the 4 most antcient and historic shops in the Raval neighbourhood:
Paraigües Miró: This small shop is interesting to pay a visit to learn about the history of the old trade of the umbrella-maker and can be visited at 33-35, Riera Alta street.
Viader Farm: Chocolate lovers have an obligatory stop at this family business since 1904. Close to the busy Rambla, it is located on D'en Xuclà street, and it hides a secret: the Cacaolat milkshake was created here, and for those with a sweet tooth, it will certainly be something to keep in mind. Many of their products are suitable for coeliacs, so there are no excuses, come and taste them!
Llansà Herbalist: this emblematic establishment retains the same appearance as when it was started in 1907, and still belongs to the same family. It is located at 18, Elisabets street, very close to the Rambla and the Barcelona Museum of Contemporary Art (MACBA). It specialises in medicinal herbs, essential oils and phytotherapy products, to name but a few.
Bubub: In this small shop, its owners, Joan and Isabel are part of the Cooperativa Agraria El Prat de Llobregat and the Agrupació de Defensa Vegetal (ADV) del Baix Llobregat. They transport their harvest every day to their shop in the Raval and sell other products such as honey from nearby cooperatives. Don't hesitate to venture out and discover it at 29, Joaquín Costa street.
And here…. the 5 restaurants you won't want to miss!
We recommend some restaurants you can't miss
En Ville Restaurant, located at 14, Doctor Dou street. It is part of an emblematic building built in 1877. With creative cuisine and fresh, seasonal products from traditional Catalan cuisine
L'Antic forn el seu restaurant, at 28, Pintor Fortuny street. Specialising in grilled and traditional Catalan cuisine. It is highly recommended to try the famous "calçotada", from November to March. So, get ready and come!
Dos pebrots, at 19, Doctor Dou street. New Mediterranean cuisine with all kinds of suggestions, influenced by the different civilisations that have left their mark to reinterpret and surprise. An open-plan restaurant where customers can see how the food is prepared. Let yourself be surprised; it will make your mouth water!
L'Hortet Vegetarià, at 32, Pintor Fortuny street. A place for vegetarian cuisine for over 50 years, where traditional cuisine is fused with new trends, whether you are vegetarian or not, try it, you'll be impressed!
Teresa Carles, located at 2, Jovellanos street. A place that prioritises seasonal products, a place for healthy flexitarian cuisine, since 1979. With eco-friendly and innovative menus. It's a very interesting experience that won't leave you indifferent!
With the basics of this post, you no longer have an excuse to get lost in the Raval and enjoy it to the fullest!