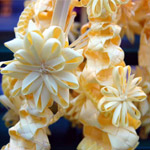 DIUMENGE DE RAMS PALM SUNDAY DOMINGO DE RAMOS
El diumenge de Rams es un dels dies més importants i celebrats de la tradició Catòlica. Es celebra el diumenge abans del Dia de Pascua.
A la Rambla de Catalunya, devant del Continental Palacete s'instal.la una Fira on es venen les tradicionals palmes i Palmons. Es un dia molt agradable per pasejar-s'hi amunt i avall.
Palm Sunday
; named as one of the most important Christian events and commonly celebrated in the last Sunday before the Easter Sunday . In Barcelona, nicely handmade palm branches are symbol of Palm Sunday. On Rambla de Catalunya, in front the Continental Palacete, a Fair is held where to buy those palms.
El Domingo de Ramos es un de los días más importantes y celebrados de la tradición Católica. Se celebra el Domingo anterior al Dia de Pascua. En la Rambla de Catalunya, delante del Hotel Continental Palacete, se instala una Mercadillo donde se pueden ver y comprar las tradicionales palmas y palmones. Es una ocasión inmejorable para pasear y disfrutar del ambiente.
Click here to reserve your hotel barcelona
Click aqui per fer la seva reserva hotel barcelona
Click aquí para hacer su reserva de hotel barcelona
Clickez ici pour faire votre reservation d' hotel barcelone