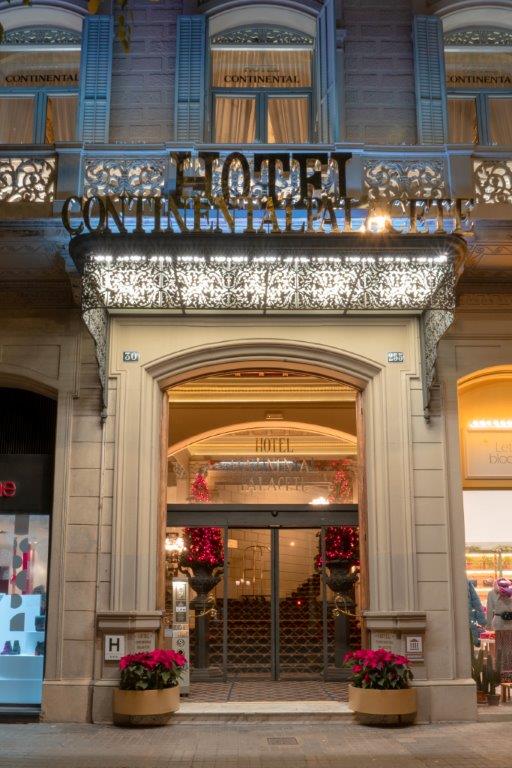 Continental Palacete: a Monument Hotel in Barcelona
First "Tour guide through the "Monument Hotels" of Barcelona"
Yesterday, November 24, 2022, the Hotel Continental Palacete welcomed the Barcelona visitors participating in the first "Route through the Monument Hotels of Barcelona".
The Hotels-Monument are a distinction granted by the Barcelona Hotel Guild and which responds to their great beauty and uniqueness.
Together with the Continental Palacete, in Barcelona there are 20 official monument-hotels that open their doors for the first time on this route.
The Continental Palacete was recognized as a "Monument" in 2018
It was a source of joy and pride to receive this distinction that reflects the beauty and uniqueness of this architectural work that houses salons in the purest Versailles style from the time of Louis XIV. A place chosen by highly prestigious models and firms to create their reports, presentations and advertisements.
At the same time, a quiet and elegant place that transports us to other times and that we want to share with our guests so that they feel the same or better than in their own homes!
It was in 1863 when the building that houses the Hotel Continental Palacete was built. Time of the birth of Catalan Modernism that developed new architectural concepts based on nature. In the Continental Palacete we can find them in the stucco with floral shapes of the "Sol" and "Tribuna" rooms and in the coffered ceiling of the centenary corridor.
In addition, in the hotel there are two spectacular pieces that come from the family legacy. A spectacular chandelier that crowns the Centenario room, measuring one and a half meters in diameter by two meters high and a 3-meter-high modernist mahogany cabinet acquired by the Vallet Arnau family at the World's Fair in Paris in 1889, you can discover more details about this jewel of furniture in this post.
A bit of history to know the origin
It was in 1998 when the Malagarriga family, hoteliers since 1826, bought this main floor. It was practically in ruins, it had housed the offices of an insurance company, and this company had not put much effort into preserving and restoring this architectural gem.
We have always commented that it was a miracle that we could buy it… my mother discovered it during a visit to the dentist, in the waiting room, La Vanguardia opened and there was "mansion for sale" a full-page advertisement! He always tells it this way.
It was with his great capacity for work, his faith, his tenacity and his will that made it possible for it to become a reality. We spent almost 5 years doing works, going through really challenging moments… Luckily he always had the unconditional support of my brother José María and myself to overcome them all.
And here we are, happy and proud to have recovered this place and to be able to share so much beauty with clients, friends and Barcelonans.
Our "Tour" with a concert by the Agape String Quartet
To liven up yesterday's tour, we offered a small concert by the string quartet "Agape String Quartet", they have already come several times and they are fantastic. They always have the detail of singing "Strangers in the Night" to my mother, her favorite song. Well their favorite song… from my parents who lived a short but precious love story.
We look forward to sharing with you in another occasion these special moments!
Follow us on the networks to find out when the next tour will be!
Have a nice weekend!