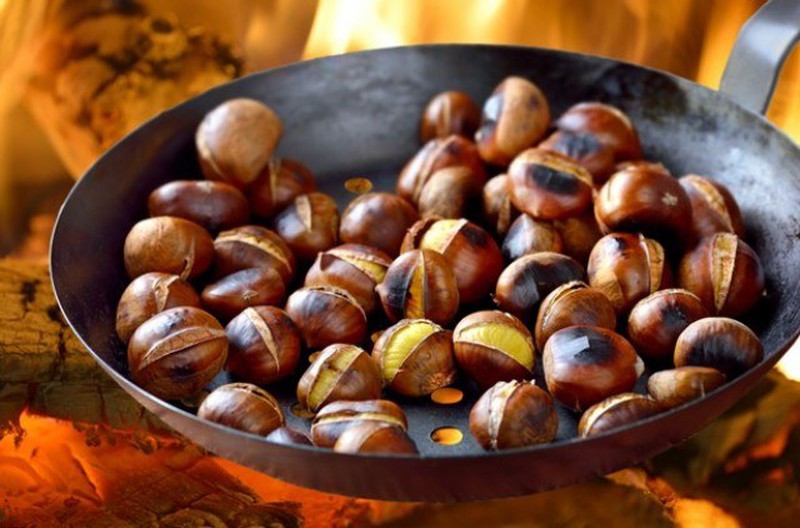 Come celebrate autumn and "la castañada" with us!
Tradition and gastronomy come together to welcome you!
La Castañada is a traditional festival in Catalonia that is celebrated on November 1, coinciding with All Saints' Day.
This festival wants to commemorate our ancestors by consuming products such as chestnuts, sweet potatoes and "panellets", typically autumn. Legend has it that for every chestnut eaten on All Saints' Eve, a soul is released from purgatory.
It is an old pagan tradition that was celebrated throughout Europe in which the end of the harvest and the good weather were assimilated with the cult of the souls of deceased relatives.
Although in its beginnings the day of the chestnut had a stronger connection with respect for deceased relatives, today it is still common to visit cemeteries or hold a memorial ceremony. This is mixed with a somewhat more familiar, festive and celebratory atmosphere with the tasting of chestnuts and roasted sweet potatoes, the preparation of panellets and the consumption of muscatel, a low-proof, sweet liquor that goes wonderfully well.

Discover chestnut stalls and their smell!
Stroll through Barcelona and discover the "chestnut stalls" that sell this product along with roasted sweet potatoes to warm your hands during the cold days. Here we give you the two that are very close to our hotels. You no longer have excuses not to come closer!
La Rambla 120, Continental Barcelona is at La Rambla 138
Rambla de Catalunya 2, Continental Palacete is at Rambla de Catalunya 30
Or enjoy the "panellets", a sweet made with a base of almonds and covered in egg white and pine nuts that you will find in all pastry shops and liven it up with muscatel, a sweet wine typical of the Mediterranean area.
And everything is very close to our hotels!
And to rest from walking around the city, stay in one of our two all-inclusive hotels in the center of Barcelona, ??the Hotel Continental Barcelona and the Hotel Continental Palacete. Located one in the Rambla Catalunya and the other in Las Ramblas and that have a unique buffet with food and drinks that you can enjoy 24 hours a day and that is always included in our prices!
You sign up?
We are delighted to welcome you and take care of you!