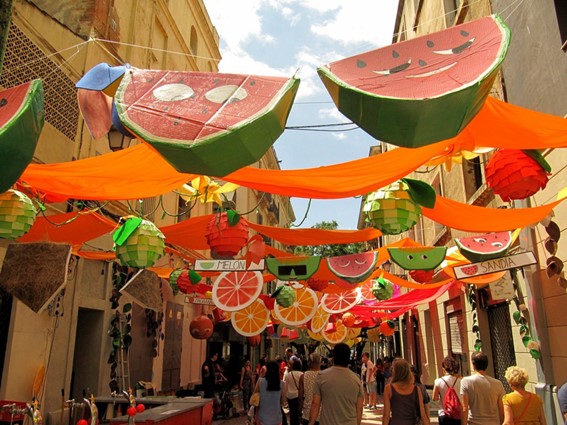 Come and discover Gràcia Street Festival!
The best Fiesta Mayor in the Gràcia neighborhood! Are you going to miss it?
Did you know that the Gràcia Festival has existed for over 200 years? It commemorates the patron saint of Gràcia,Saint Isidro. This year will mark the 204th edition of the Festa Major de Gràcia in Barcelona! Every August in Barcelona, the beautiful district of Gracia hosts a street festival that lasts an entire week. During this festive week, the inhabitants of the neighbourhood have a lot of fun decorating the streets. These particular Barcelona street festival dates are always 15th to 21st August every year: a truly extraordinary event that is well worth a visit.
The Fiesta de Gràcia is a huge event based on a competition between the neighbourhood streets, in which decorations and creativity are compared and hotly contested. The competition leads to a veritable feast for the eyes with lights, moving sculptures and a selection of themes chosen by a council formed by the inhabitants of each street. In addition, there are concerts, popular Catalan dances, exhibitions, Castellers (human towers), gigantic figures, correfocs (fire-runs) and much more – it is a feast for all the senses and all the family.

Discover the original decoration of the streets
Neighborhood communities and other entities in the neighborhood strive for months to prepare the best decoration for their streets. They all participate in a contest with important prizes that reward effort and, most importantly, give life to creativity and value the feeling of neighborhood community.
As you walk through the streets during the Fiesta de Gràcia, you never can be sure what to expect – you may find yourself on a trip to Japan, through a mad scientist's laboratory or even an underwater world. All the streets participate, and each decoration appears more and more brilliant.
Many people think this very colourful festival is the best Barcelona street festival, ??and we won't say otherwise! Over the years, the festival has become an essential tradition in Barcelona: it is the nicest, most popular and jubilant festival in the city. The people of Gracia welcome visitors and tourists to their neighbourhood with open arms, one of the reasons the Festa Major de Gracia is so well-loved.
So if you're wondering when is a good time to visit Barcelona, we highly recommend the week the Festa Major de Gràcia takes place.
Where to stay during the Fiesta de Gràcia?
Come to Barcelona to experience unique and unforgettable moments of this beautiful city at the time of this popular colourful street festival.
Experience our two all-inclusive hotels in Barcelona city centre, Hotel Continental Barcelona and Hotel Continental Palacete. Located in the best locations of Barcelona with our delicious 24 hours free buffet, you'll be able to relax and enjoy the festival week in style and comfort.