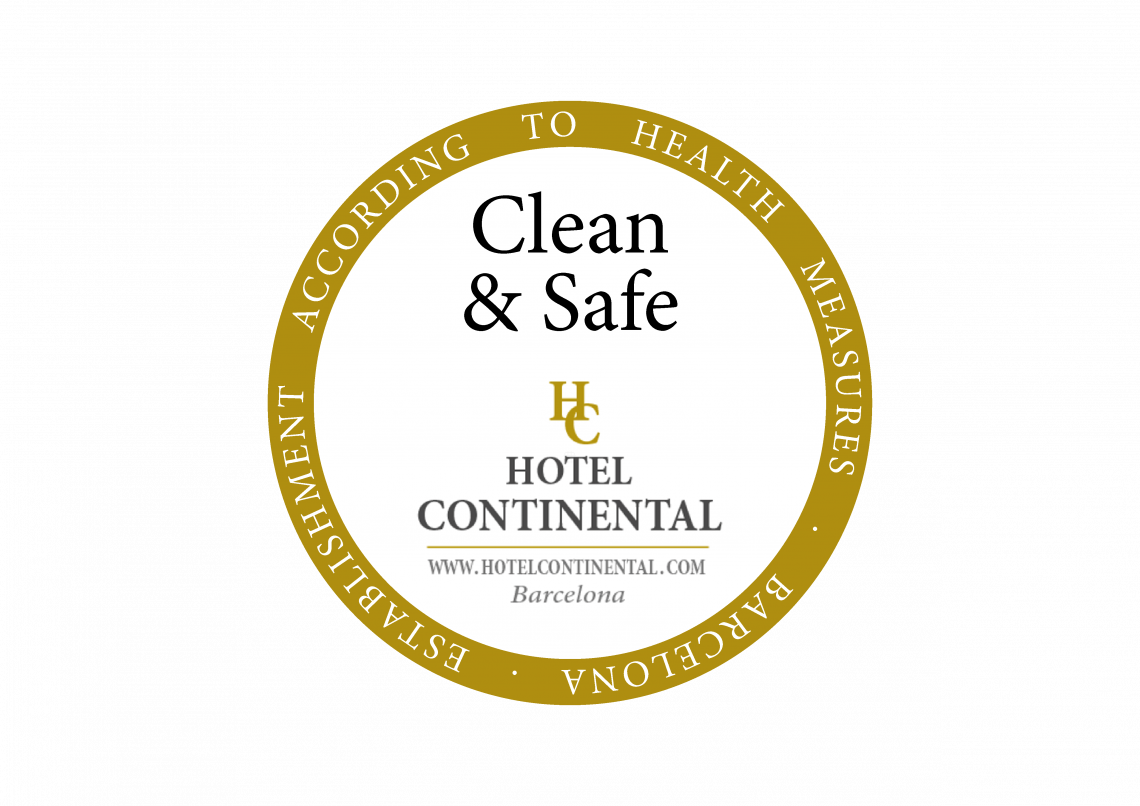 "Clean & Safe" our commitment to Covid19
Feel "Clean & Safe" at the Hotel Continental
We present in this post the seal "Clean & Safe", a way to show to our customers and the whole society, our effort and commitment to the cleanliness and safety of our hotels and whose purpose is to establish all measures needed.
Specifically, we focus on the "Good Practices for Workers and Establishments in the Tourism Sector Guide", jointly edited by the Ministry of Health and the Ministry of Industry, Commerce and Tourism. This guide details:
Generic prevention measures: personal hygiene, hygiene in the workplace, protocol in case of suspected contagion, recommendations to the traveller and surface cleaning procedures.
Specific prevention measures in hospitality sector:
Management responsibilities in relation to the availability of resources, coordination of the crisis committee and registration of actions;
Front Desk department responsibilities: customer information at check-in, medical consultations, availability of materials, social distancing measures and cleaning;
Maintenance responsibilities: dishwasher, air conditioners, breakdown repair in rooms;
Responsibilities in dining rooms, bars and kitchens: hand disinfection, food handling, personnel behaviour, cleaning and disinfection of dishes and lounges, provision of customers;
Responsibility of housekeeping and cleaning: cleaning and disinfection program, availability of materials
The Guide also establishes a protocol for action in case of contagion cases detection: cleaning and disinfection procedures and responsible communication policy.

Thanks to our customers and our teams
As we have explained in previous posts, the Hotel Continental Palacete has remained open as a guard hotel since the start of the state of alarm on March 14 in Spain.
We continue to host and thank our group of Indian national crew who are following with patience, resignation and a very good attitude the heaviness of so many days practically locked in their rooms.
We continue to thank our dear staff, thanks to those who continue to work and also thank you to the ones who have had to temporarily unsubscribe through the figure provided for these cases. To all, our thanks for enormous dedication, loyalty and understanding in these difficult times for the hotel sector and for all society in general.
Barcelona begins street life little by little
Despite being still in phase O, Barcelona has already begun to see itself in this last week with more movement. The authorities have established schedules according to age groups for practising sport, walking, cycling …
Near the Continental Palacete, the famous Rambla de Catalunya is more lively from 8pmv, just after the daily applause to thank and encourage health personnel to fight on the front line against Covid19.
We hope to advance in the phases, we continue to call everyone's responsibility to stop contagious and little by little to conquer a certain normality.
We look forward to opening the doors of our Continental Barcelona Hotel again very soon and giving you the warmest welcome to your home in Barcelona!
See you soon!