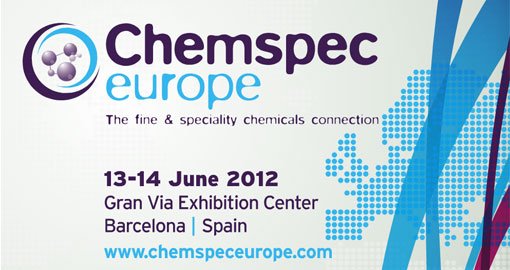 Chemspec Europe Barcelona 2012
Chemspec Europe is the largest European exhibition in fine and specialty chemicals. In 2012 it returns to Barcelona after the successful edition organized in the city in 2009 and Genoa in 2011. The second edition in the city aims to repeat the figures achieved then, when more than 60 countries around the world were present.
Over 400 companies and 5000 attendees are expected. Industries from biotechnology to the dyestuffs, agricultural chemicals or pharmaceuticals will be present. Transport or laboratory materials companies and banks will be there too.
Chemspec Europe 2012 is a great opportunity to discover the latest industry developments, do business and attend the best conferences and seminars in the field on June 13-14 2012.
Chemspec Europa 2012 es la feria de gran importancia, de hecho podemos decir que es el evento fundamental para la industria de los productos químicos. No hay mejor lugar para conectarse con los profesionales existentes de todo el mundo y conocer las últimas novedades e innovaciones en todo lo relacionado con los productos químicos.
Chemspec Europa, la feria de productos químicos, tendrá lugar este año en la ciudad española de Barcelona, entre los próximos días 13 al 14 de junio de 2012, mostrándonos las últimas novedades y avances del mundo de la química. Señalar que esta feria tendrá lugar en las instalaciones del recinto ferial de la Feria de Barcelona.
Click here to reserve your hotel barcelona
Click aqui per fer la seva reserva hotel barcelona
Click aquí para hacer su reserva de hotel barcelona
Clickez ici pour faire votre reservation d' hotel barcelone