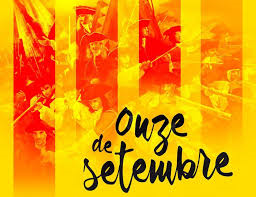 Catalonia National Day 2016
Every 11th September since 1980, in Catalonia it is marked the fall of Barcelona into the hands of the Bourbon forces on September 11, 1714. It occurred after a 14-month siege of the city, in the War of the Spanish Succession. In the aftermath, the Catalan institutions were abolished.
What do we do during our National Day?
A few popular events are held in Barcelona on La Diada
Organizations and political parties laying flowers and wreaths at monuments to Catalan héroes.
Meetings to pay homage to the soldiers who defended Barcelona during the War of the Spanish Succession.
Political demonstrations.
Concerts featuring traditional and modern music.
Private parties.
Communal meals of paella cooked in pans four meters (12 feet) in diameter.
Many people, businesses and organizations also wave and display Catalan flags on this day.
This sunday morning, according to tradition, the Catalan Government (La Generalitat) will hold an official ceremony in front of El Born, Culture and Memory Center. The event will be dedicated to Catalonia as a land of welcome.
This ceremony will be accompanied with some Catalan folk-songs as "Els Segadors" and "El Cant de la Senyera", as well as with performances of traditional African groups, gypsies and flamenco dances.
The singer-songwriter Lluís Llach will sing "Venim del nord, venim del sud", a great song inspired by a piece of the Catalan writer Jacint Verdaguer, "L'Emigrant".
The event will be concluded by the raise of the emblematic Catalan flag at 1714 meters high -as the year of the Barcelona's siege.
All in all, a whole day dedicated to share and reinforce the Catalan sentiment as in the "Party of Liberty" (Festa de la Llibertat) that will take place in Passeig de Lluís Companys at 7pm with homemade music bands such as "Itaca Band", "Roba Estesa" and "Oques Grasses".
High spirits, high flying flags, and high emotions! Join us on the festivities of our National Day and find any of our Continental Hotels in the heart of the city!