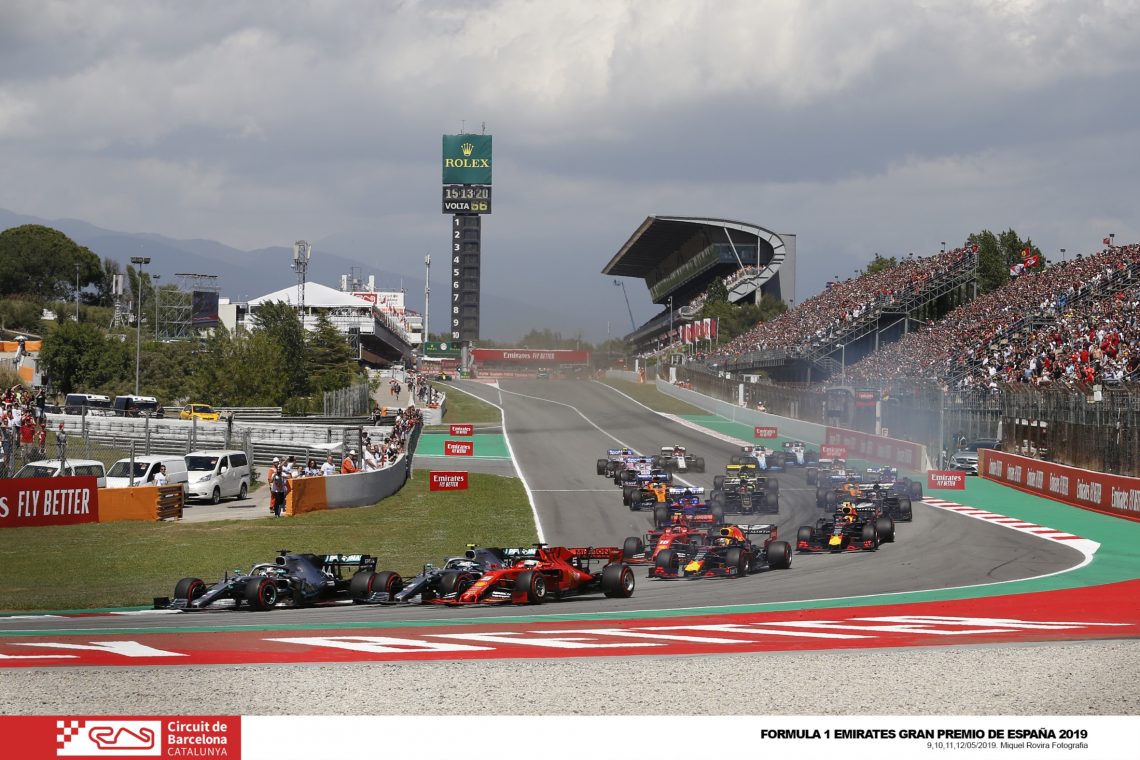 Bravo for F1! In Circuit de Catalunya from 14 to 16 August
Formula 1 ARAMCO GRAN PREMIO DE ESPAÑA 2020 this weekend
Congratulations to the Circuit de Catalunya and the organization of the Formula 1 Aramco Gran Premio de España 2020 for organizing this important event for Barcelona, ??for Catalonia and for the world leading racing category that is taking place this weekend.
We celebrate that, in the current context, this Grand Prix is ??being held, which brings together 22 world teams that are already coming to Barcelona and which will obviously be without an audience in accordance with government requirements.

Barcelona, ??our hotels, restaurants, shops … safer than ever
As we have been repeating in our previous publications, our beloved Barcelona is now safer than ever.
Our Hotels, the Continental Barcelona and the Continental Palacete, maintain high standards of cleanliness, security and protection to guarantee a comfortable and safe stay.
The rich cultural and commercial offer near our hotels is offering authentic opportunities to make you enjoy our city in a totally atypical summer and, sad for us, because the streets, shops, emblematic buildings and museums are emptier than ever.

We encourage you to come visit us!
Take advantage of these days in August to escape to Barcelona and enjoy in a safe and comfortable way everything that we offer you in our hotels and in our city.
We offer you incredible offers, just like the stores offer them, which are already closing the summer season, in them you will find unique and incredible opportunities.
Also in the museum houses such as Casa Batlló, Casa Ametller or Casa Milá (La Pedrera) and other wonderful leisure and cultural spaces in our city you will find special promotions for this August.
Coming back to the 2020 F1 Spanish Grand Prix in Circuit de Catalunya
FORMULA 1 ARAMCO GRAN PREMIO DE ESPAÑA 2020 has various actions to ensure that fans continue to be part of the event.
Although the current edition of FORMULA 1 ARAMCO GRAN PREMIO DE ESPAÑA 2020 faces many significant changes given the current context, Formula 1 and the Circuit de Barcelona-Catalunya have wanted fans to feel that they can continue to be part of history of the world motorsport championship on the Barcelona track.
For example, one of the classics of the Spanish Grand Prix has always been the signing session with the drivers. Well, this year there will also be a virtual "Meet & Greet" organized by Formula 1. A few lucky ones, chosen randomly from the fans who had tickets to the Grand Prix, will be able to meet their idols, as well as chat with them. They will also be able to sign merchandising virtually. The Ferrari, McLaren, Racing Point, Alpha Tauri and Haas teams will participate in this activity, both on Thursday 13 and Saturday 15 August.
Another of the most symbolic elements in the world of F1 competition is the checkered flag. For this occasion, fans will have the opportunity to see their name shine in one of these paintings. Some will be auctioned and others will be given away to fans who have curious or interesting stories related to the Spanish GP.

Congratulations for maintaining the event and adapting to circumstances
We want to highlight how the organization of FORMULA 1 ARAMCO GRAN PREMIO DE ESPAÑA 2020 has been able to adapt to the circumstances and introduce the necessary changes to make it possible for the event to continue to be held.
This is precisely what we, who live, work and love Barcelona, ??want to value. Because we have to get used to living in an exceptional situation, to putting all the measures at our disposal to guarantee trust, security and, above all, to continue living and sharing with you, with our team, with our clients this wonderful city that has always been open, resilient, capable, kind, surprising and brave to keep going.
Call us and we will explain to you personally how we are!
Remember that the news is intended to create alarm, exaggerating and reiterating the bad news and never telling the good ones. It seems that they only have an interest in depressing and frightening us (for your information today, all over Catalonia -formed by the four provinces of Barcelona, ??Girona, Lleida and Tarragona) there are 116 patients admitted by Covid19 in ICU).
So call us (+34 934 457 657) or write to us (palacete@hotelcontinental.com or barcelona@hotelcontinental.com) and we will tell you about our reality so that you and yours feel safe and feel confident to come and visit us!
See you soon!!