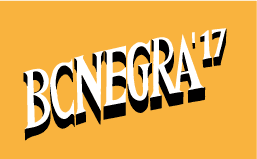 Black Novel in Barcelona: BCNegra 2017
Until February 4, BCNegra is being held in Barcelona.
We quickly tell you what it is about, its intentionality and all those writers and collaborators who support another year (it's been 12 years already) this week of intrigue, mystery and much more.
It is the festival dedicated to the black novel, created in Barcelona in 2005 under the commissioner Paco Camarasa, who after twelve years in command has recently announced that this 2017 is his last year in charge of this love story between Barcelona and the black novel (according to words of Camarasa), alleging health issues.
In four days, the black calendar in the city is featuring:
The 'dark' Barcelona of the 1920s
Always playing by mystery, the absence of light, and by the motto "when there were more murderers in Barcelona than in Chicago", on February 1 there will be a roundtable meeting in which Barcelona will be set back to 1920s. The discussion will get through the gun-laws days in the city -known as pistolerismo- in which Barcelona was tagged as one of the most sinister stages of the Catalan capital. An act that will count with the participation of writers like Andreu Martín, Antonio Soler and Paco Ignacio Taibo II who will speak of crimes. Among the presence of other writers, the debate will be moderated by writer and journalist Antonio Baños.
The American society subjected to skepticism
The Carvalho Prize will be awarded to American writer Dennis Lehane, author of novels such as Mystic River and Shutter Island. It is the first visit of the writer to Barcelona and will participate in a conversation about the United States of the last days, a very subject that has raised much expectation in this edition of BCNegra.
Day of role playing … in black
On Saturday 4 February, the Ignasi Iglésias – Can Fabra Library will host the black role-playing games, an activity for the whole family to enjoy the best games about criminals and detectives. Those over 16 years old can participate, but for the youngest, from 6 years, it will be held the activity " Petits detectius de monstres " from 11 to 14h. Previous registration is required.
Artistic crimes in museums
The murder has been habitually represented by an artistic side in the seventh art. The Filmoteca de Catalunya has made a selection of the best fragments of black genre films in BCNEGRA's motif. The result is a collage with the images that will be seen in the film session that will take place on Saturday 4 at 6:00 p.m. in the National Museum of Art of Catalonia (MNAC), in charge of the Deputy Director of the Film Library, Octavi Martí, and with free admission.