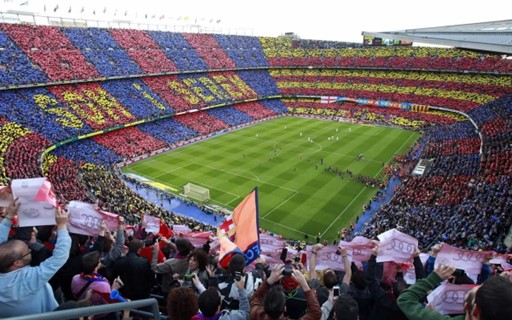 Barcelona, the city of football: Exploring the football culture beyond the stadium
Discover the football face of Barcelona in this post!
Barcelona is a paradise for football lovers, with its rich history and passion for the beautiful sport.  Whether you want to watch a match at the Camp Nou or visit the FC Barcelona Museum, you will find plenty of attractions to satisfy your football cravings. To make your stay even more enjoyable, why not book a room at the Continental Hotel, an all-inclusive hotel in Las Ramblas, the heart of the city? You will benefit from a 24-hour buffet with snacks and drinks, a comfortable and pleasant atmosphere, as well as a privileged location near Plaza Catalunya and in two beautiful streets of our city: the Continental Palacete located in one of the most elegant streets of Barcelona: Rambla de Catalunya and the Continental Barcelona, located in Las Ramblas, almost on the corner with Plaza de Catalunya, the most famous street of the city. Don't miss this opportunity to experience the best of Barcelona's football culture and hospitality!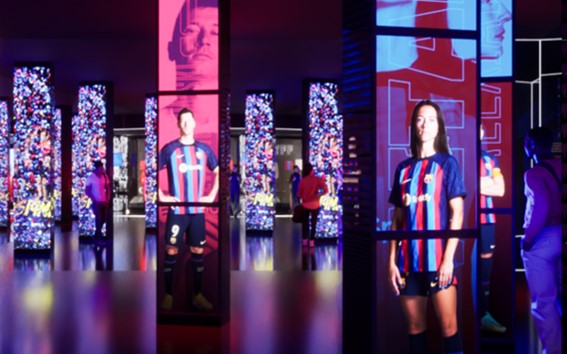 The Catalan capital is famous for being home to FC Barcelona or Barça – one of the most popular and most successful football teams ever and a symbol of the city and Catalonia. It is no surprise that most of the locals are completely mad when it comes to this sport. The city has a rich football culture and a lot of activities around it. When it's time for a match, the city's bars are filled with enthusiastic locals and football fans worldwide to root for their teams, especially rivals Real Madrid! The atmosphere is exceptional after an important victory, like the World Cup final. The streets of Barcelona fill up with celebrating and cheerful fans. Even if you are not a big football devotee, this festive vibe will surely get you into the mood!
Of course, there are plenty of football activities in Barcelona, such as a Barcelona Nou Camp visit. Head to the FC Barcelona museum, where you can get to know the history of Barça in the form of different wall displays and interactive tables, as well as admire all the trophies the team has won over the years. A football tour Barcelona is a must – there are various packages available but most include the entrance to the Barça museum and guided visits around the stadium, as well as touring the emblematic places of Catalan football or participating in a football match with locals or tourists.
You probably won't want to miss a single Barça match or those important tournaments during your stay in Barcelona! It's not hard to find a bar to watch live football in Barcelona; hundreds of venues throughout the city will have the match on TV. Here are three football bars with giant screens and plenty of atmosphere:
The Wild Rover: If you are looking for a cozy and lively place to watch football games in Barcelona, you might want to check out The Wild Rover, an Irish pub at the bottom of Las Ramblas, just a few steps away from the Continental Hotel. This pub has everything you need to enjoy the sport: two giant projectors and six large plasma screen TVs showing all the major leagues and tournaments, a friendly atmosphere, and a great selection of drinks and snacks. Whether you are a fan of La Liga, Premier League, Bundesliga, Serie A, Ligue 1, Champions League, Europa League, or even Gaelic sports, you will find your match at The Wild Rover! 
Sotavent: If you want to immerse yourself in the den of Catalan supporters, go without hesitation to Sotavent. Located in the Sarrià district, it is far from the tourist trails and promises an authentic evening. If you are accompanied by people who aren't keen on football, they can keep busy playing billiards, darts or board games available on request at the bar. 
Casa de Tapas La Cañota: Casa de Tapas La Cañota is an exceptional football bar that perfectly blends the vibrant culture of Barcelona with the thrill of the beautiful game. Located in the interesting Montjuic Park district, this establishment captures the essence of Spanish football and offers an unforgettable experience for both locals and tourists. As you enter, you are greeted by a warm and inviting atmosphere adorned with football memorabilia and the passionate cheers of fans. The bar boasts four large screens broadcasting live matches from various leagues, ensuring that every crucial moment is witnessed in all its glory. The friendly and knowledgeable staff create a welcoming environment where football enthusiasts can engage in lively discussions and banter. Adding to the experience, Casa de Tapas La Cañota serves delicious traditional Spanish tapas, perfectly complemented by a wide selection of refreshing beverages. Whether you're a die-hard fan or simply looking to soak up the electric atmosphere, Casa de Tapas La Cañota is a must-visit destination for any football lover visiting Barcelona.
Football tourism in Barcelona offers plenty of exciting places to visit. The Olympic Stadium and Park, for example, Lluís Companys Stadium, is equipped for the development of different sporting activities: from football matches to obstacle courses; The Olympic Museum with exhibits promoting sport and an active lifestyle; The Football Square or the Walk of Fame of Catalan Football.
If you are a football fan, you will love staying at our Hotel Continental Palacete or Hotel Continental Barcelona, ??which are ideally located in the heart of the city! From there, you can easily explore Barcelona, one of the football capitals of Europe, with its world-famous clubs and stadiums. Don't miss this opportunity to enjoy the best of Catalan culture and sport!