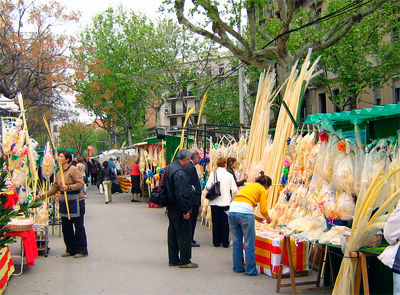 Barcelona Easter: Processions, Palm Blessing and the Sweet Mona
We have an overflowing calendar of activities in Barcelona as Semana Santa is around the corner.
Next Sunday April 9 is Palm Sunday, Messianic entrance of Jesus Christ in Jerusalem in Christian religion. This arrives right after Carnival and Lent. Starting on Palm Sunday, the Semana Santa begins until Resurrection Sunday (April 16). FInd more details about the last Easter here.
The good weather and mild temperatures in Barcelona during the month of April added to the complete program of activities organized by the City Council and organizations of the city make Barcelona one of the favorite destinations to spend Easter with your partner or family.
Processions
Palm Sunday, April 9, 2017
1. Procession of the Entry of Jesus into Jerusalem, "La Burreta" (La Burriquita)
Start: 10am.
Return: 1pm
Itinerary: Plaza San Agustín, Hospital Street, Plaza de la Boqueria, La Rambla, Santa Ana Street, Puerta del Angel Avenue, Cucurulla Street, Puertaferrisa Street, La Rambla, Plaza de la Boqueria, Hospital Street, San Agustín Square).
Good Friday, April 14, 2017
2. Procession of Our Father Jesus of the Great Power and Mary Most Holy of the Macarena Hope.
Start: 5pm
Return: 10:30pm
Itinerary: Plaza San Agustín, Hospital Street, Plaza de la Boqueria, La Rambla, Santa Ana Street, Puerta del Angel Avenue, Arcs Street, Cathedral Avenue, Boters Street, Pino Street, Pino Square, Cardenal Casañas Street, Plaza de la Boqueria, Hospital Street, San Agustin square.
3. Procession of Our Lady of Sorrows – Courting formed by women of mantilla.
Start: 6:45pm
Return: 8pm
Itinerary: Parish of San Jaime, Ferrán, Plaza San Jaime, Bisbe, Cathedral Avenue, Boters, Pi, Plaza del Pi, Cardenal Casañas, Boquería, Ramblas and Ferrán.
The Fair and Blessing of the Palms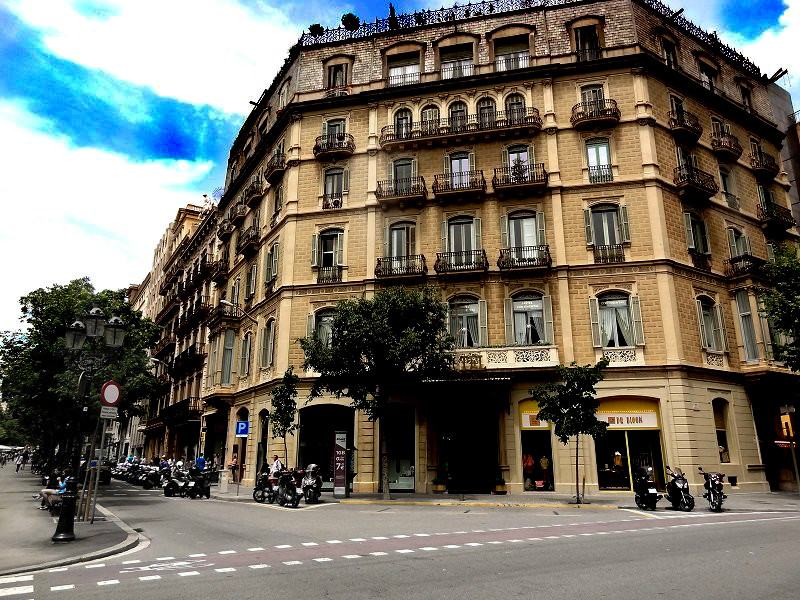 Just stepping outside our Hotel Continental Palacete we are on Rambla de Catalunya. Well, for many Catalan families, and Christian, after all, Palm Sunday is a day of tradition that brings together godparents with their godchildren, and they are given little and big palms that are blessed at the Fair of the Palms on La Rambla de Catalunya.
The secret of palms: The raw material is a branch of date palm that is cultivated protected from the sun light so that it grows white, without chlorophyll. And once they have been blessed, they hang from balconies because they are thought to bring good luck and protect against evil spirits.
The origin of the palm tradition is known in the manner in which the Jews received Jesus when he returned to Jerusalem and was proclaimed his Savior, raising palm leaves, laurel branches and olive branches to express his joy to the Son of God .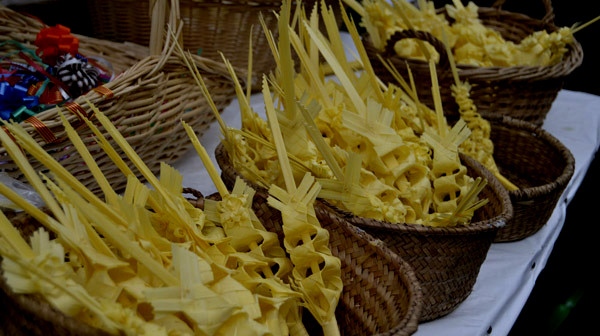 From Wednesday 16 to Saturday 19 will return this traditional Fira de Rams de la Rambla Catalunya (from 9am to 10pm, between the streets of Diputació and Aragó). It is a totally handmade fair where you can find such crafted palms, also laurel and other typical Easter decorations such as rosaries made of sugar pieces, colored ribbons, chocolates and figurines of the infantile characters that are in fashion that the children will then use to crown the top of their mones.
The Mona de Pàsqua, the sweet catalan tradition
For centuries, it was the custom for pastry cooks to make sweets with boiled eggs, which godparents used to give to their godchildren on Easter Sunday. Over time, these eggs came to be made from chocolate, and the number of eggs depended on the child's age. To this day, however, the mona is usually made up of a chocolate cake with a figure that comes in many shapes and colors, ranging from traditional eggs to cartoon characters, animals, football players and so on.