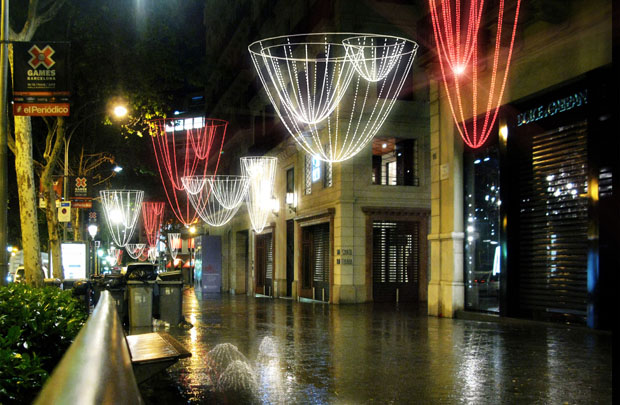 Barcelona Christmas lights 2014
Gaudí and city artists light up 2014 Christmas in Barcelona
Every year at Christmas, in the same way as for most of the Christian tradition cities and villages, Barcelona shows us her brightest side.
On November 21st, date set by the Barcelona City Council, all Christmas light displays will be turned on to offer the most charming Christmas scene. The city streets full of lights, trees with little figures and garlands and the traditional Christmas markets that make its plazas warm, colourful places, are the ideal backdrop to ensure a real and unique merry Christmas in Barcelona.
This year, the City Council held the first edition of a Christmas light displays contest under the name of "Encén el Nadal" "Switch the Christmas on". The contest offered the professional, novice and experienced artists in the field of design and creative industries the opportunity to submit their proposals on the Christmas city lighting.
'Christmas stars' and 'Light-Years', are the two winning projects which will illuminate Aragó and Gran Via de les Corts Catalanes streets this year, respectively.
At the same time, to encompass the nonchalant elegance of Passeig de Gràcia, an inspired by Gaudí's catenary arches design will pay tribute to the modernist architecture as well as will undoubtedly endow these Christmas days with color and energy. The red and white lights are stretched along 2 km to Jardinets de Gràcia and illuminate the sidewalks and the central part of the walk from Plaça de Catalunya to Carrer Gran de Gràcia.