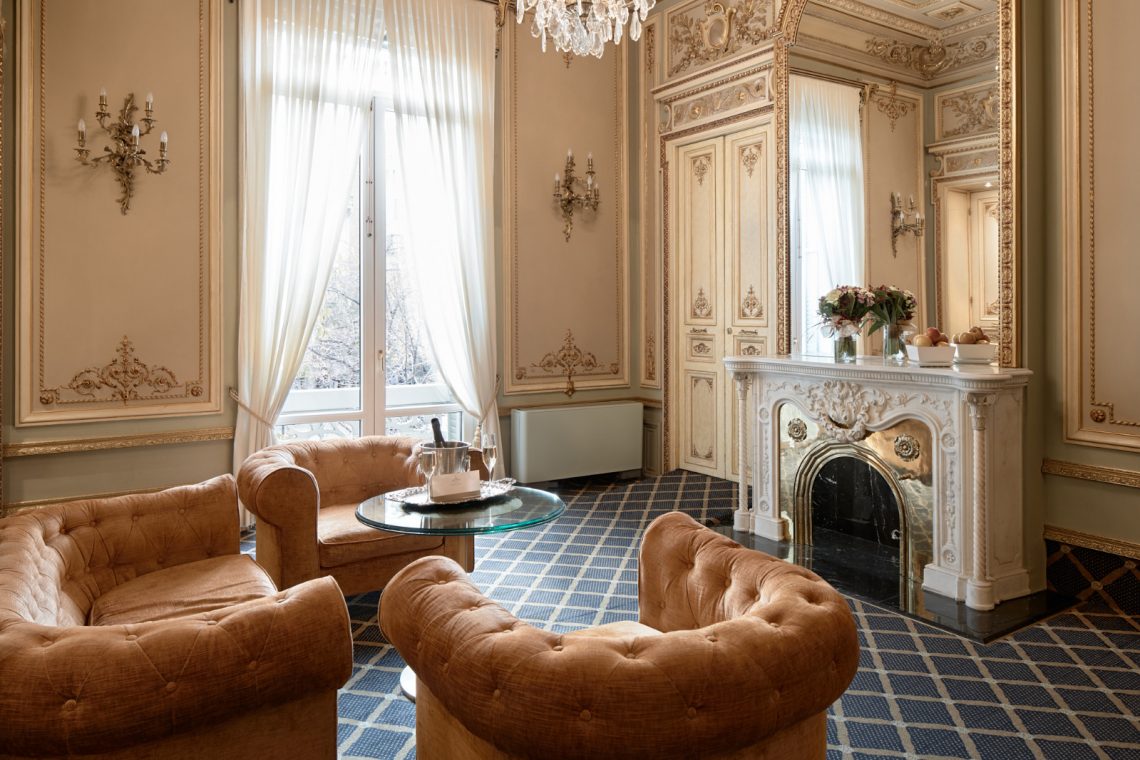 New year, new rooms at Hotel Continental Palacete in Barcelona!
In 2020 we have renovated the Continental Palacete Hotel Rooms!
At Hotel Continental Palacete, always maintaining hope, illusion and the wish that you will be with us again very soon, we have dedicated a large part of 2020 to leaving our rooms impeccable to receive you!
Versailles Continental Suite: enjoy a dream lounge
The Hotel Continental Palacete has two truly unique suites in the world. Adjoining the spacious and fully equipped double room is the Versailles Room, a space full of details that will surprise you.
The Versailles Room has been restored as delicately as possible, since the family bought this building in 1998. An original room that preserves its coffered ceilings, decorative frescoes and noble woods on the ceiling and walls, with their elegant and light gilding. All this, created an environment that surrounds you and makes you feel as if you were in a real palace.

Security, location, equipment and comfort
Our commitment to you is to facilitate and guarantee you a safe, comfortable, practical and, of course, unforgettable stay.
Here we summarize the 4 main reasons for NOT ALLOWING anybody to prevent you from enjoying the Hotel Continental experience:
Security: We have adopted the security protocols of CEHAT (Spanish Confederation of Hotels and Tourist Accommodation) and our staff is always aware of your safety and protection.
Location: Our location can't be better! We are in the beautiful Rambla de Catalunya, a walk where every early morning, you can hear the birds birding thanks to this tree-lined walk, no less than 322 linden trees, mainly, that are located in this artery that ends in Plaza Catalunya (a 5 minutes walking distance) oriented from north to south. Its budding and flowering becomes almost a citizen event every spring!
Equipment: All our rooms are fully equipped to offer you convenience, comfort and practicality. Micro-waves to heat whatever you want, an empty fridge so you can fill it with what suits you best, safe, magnifying mirror so that you always feel good! And some more detail that we invite you to discover!
Comfort: One of the unique services that Hotel Continental offers you is its 24-hour buffet open so all lifestyle can meet expectations at any time! You can find hot and cold drinks, own-made ice-cream, chocolates, coconut sweets, fresh fruit, cereals, simple and nutritious dishes so you don't have to go out and, amazing! It's always included in the price.

Enjoy what you can do at Hotel Continental Palacete Barcelona!
There is no doubt that we are in a complex situation and, therefore, from Hotel Continental we want to encourage you NOT to ALLOW anyone to prevent you from enjoying what we CAN DO.
The Hotel Continental Palacete has been permanently open and we are very proud of our family, our team, our clientele and our collaborators who have allowed us to continue offering our Hotel Continental experience to bring happiness and celebrate the good things that life offers us.
Ah! And we have incredibly attractive prices!
Call us (+34 934 457 657) or write to us (palacete@hotelcontinental.com) and we will be happy to inform you.
See you soon!